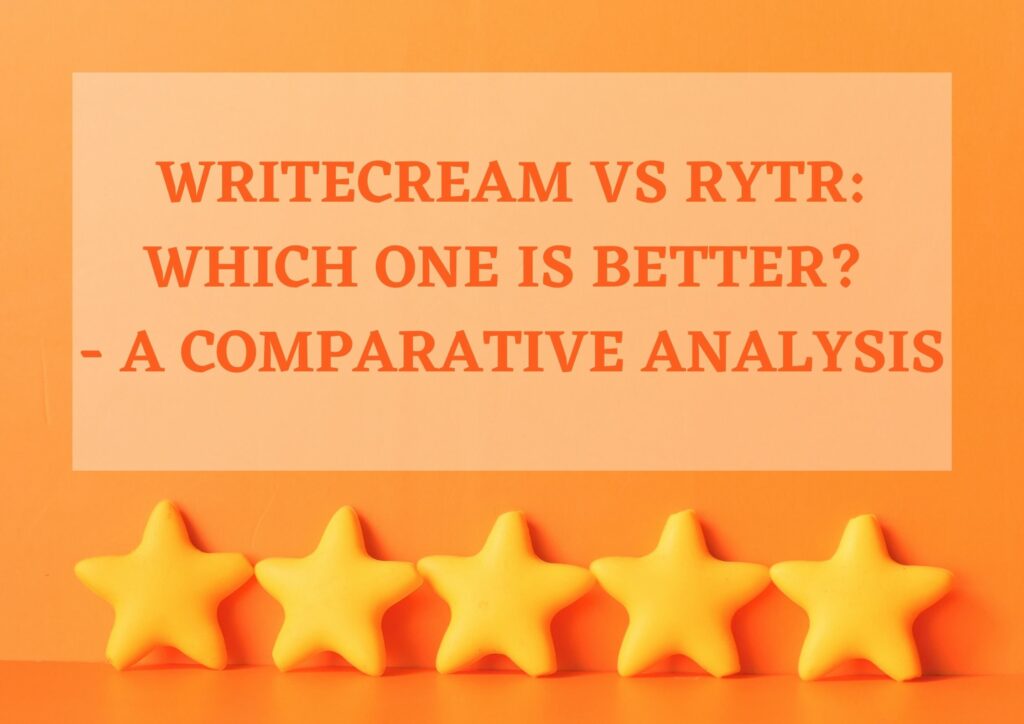 Artificial Intelligence has transformed the way the digital world works. It's not just a new buzzword that we hear on the news every now and then. It has become a crucial part of our lives. From cars to computers to websites Artificial Intelligence has become a cornerstone of the digital world.
AI has changed the way the business world operates, it is rapidly progressing. Artificial intelligence has been around for a long time, but for the first time, it is at a point where the future is within the grasp of anyone wishing to embrace it. Forecasts have shown that by 2022, AI will have impacted our lives more than any technology ever has. It is safe to say that the future is now. By the end of the year, we will have seen the invention of more AI-powered products than ever before that will change the way we live our lives.
AI has aided in many different areas of life such as increasing productivity in the workforce; making self-driving cars and robots; and reducing churn in the customer service industry. AI is also set to transform the way we perceive the world in the near future. It is basically a system that uses computer algorithms which automatically execute tasks. One of the major tasks that AI has been doing is generating content!
There are a number of AI-powered tools in the market that are helping businesses and startups to generate content within seconds with the help of its super-fast technology.
💡 Generate personalized emails, blog articles, product descriptions, and ads in seconds using the power of A.I
This blog will cover 2 such tools which are doing great in the digital market. These are Writecream and Rytr!
Both these tools are being used extensively by business owners and marketers to ease their work by delegating it to the online content generators.
This blog would contain a comparative analysis on these tools, their features, their working, pros and cons and much more!
Let's first get to know a bit about these tools!
Rytr: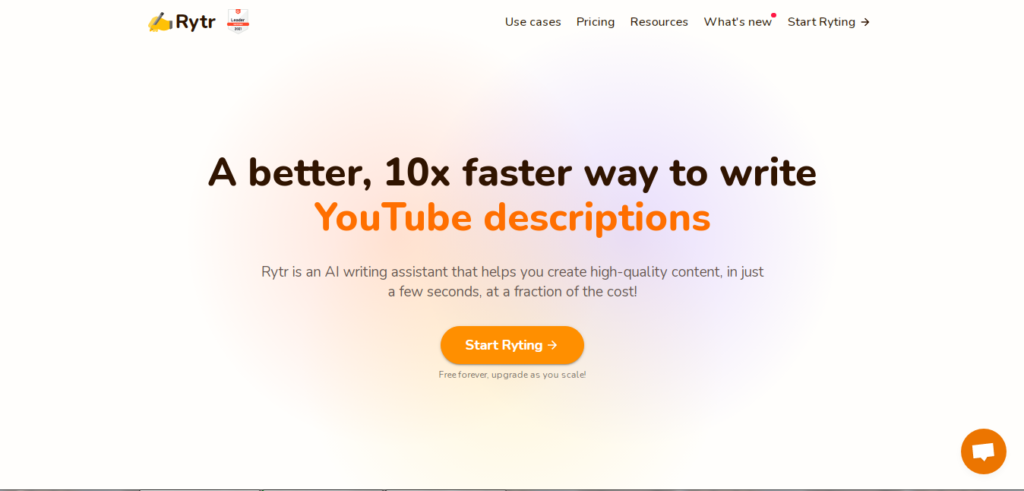 Rytr is an AI-powered tool that helps in generating tons of content be it cold emails, blog posts, product reviews, business idea pitch, resumes, and a lot more. The tool is easy to use and saves a ton of time. Rytr helps to generate content for social media, website copy and email marketing within seconds!
Features of Rytr:
1. User interface:
The user interface of Rytr is very easy to manage. As soon as you sign up for an account, your main screen appears like this: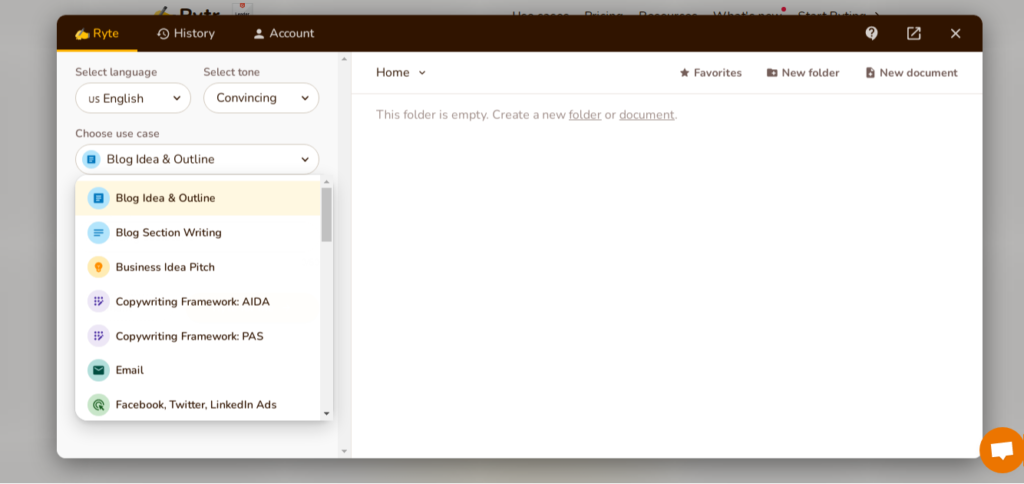 It displays a number of use cases to choose from like Blog Idea and outline, Blog section writing, Business Idea Pitch, Email, and Copywriting Framework, etc.
A user can select any case and furnish details regarding his/her requirements and can start generating outputs in a nick of time!
2. Language Selection:
Rytr offers 30+ languages to its users. One can generate content not only for the target audience of one's own country but also the target audience of other countries.
3. Tone Selection:
Rytr also offers its users 20+ writing tones ranging from informal and casual to formal and assertive tone suitable for professional dealings.
4. 30+ Use Cases:
Rytr has stepped into every nook and corner of the writing world. It offers a diverse set of cases that are helping clients generate content in a plethora of forms and styles. Ranging from a simple Instagram caption to a full-fledged blog post, Rytr has it all covered!
5. Generating Content with Scientific Copywriting Formulas:
Rytr has also launched some use cases that use copywriting formulas such as AIDA & PAS to provide best quality output that requires minimal to no edits. The usage of these scientific formulas for copywriting is doing wonders in the content marketing world.
6. Quality Content:
Rytr ensures that the content generated shows 0% plagiarism and is rich in quality. It can generate a long form blog with perfection in just minutes. It also offers extensive formatting options and makes sure that the content generated is grammatically accurate and of top-notch quality.
7. Manage Workspace:
With Rytr, a user can manage the content generated with Rytr in the History section of the tool. It displays all the search outputs and one can navigate through it to reference previous work.
8. Team Account:
Rytr also encourages its users to create a team account to manage the number of members of the same organization working on the tool, group billing, etc.
9. Live Support:
Rytr has its live support always available on the screen. This helps its clients to clear their doubts regarding the usage of the tool. With a premium account, the queries are addressed at priority level.
Writecream: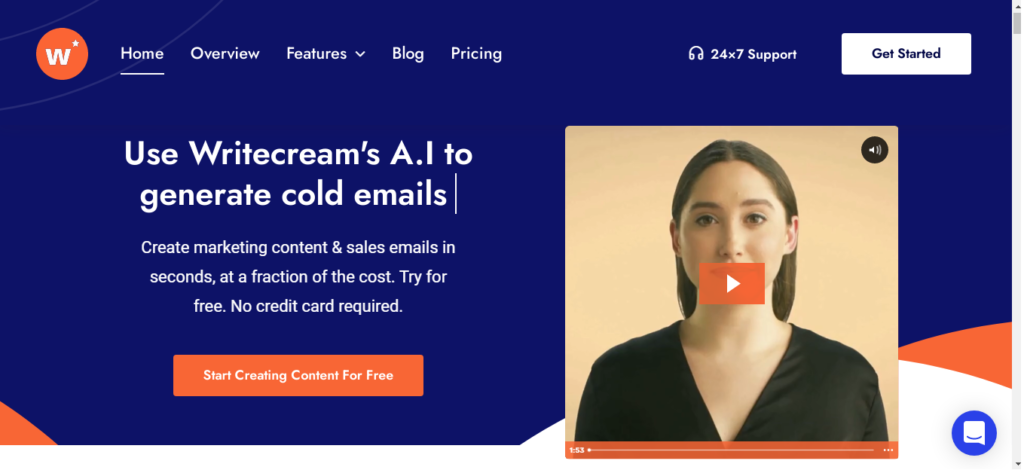 Writecream is another AI-powered tool used by writers and content marketers for all their writing problems like generating personalized introductions and messages for Cold Emails, LinkedIn Outreach, generating Blog ideas, Website Copy, Social Media content and much more.
This tool has the ability to increase your productivity manifold by generating tons of content within seconds. Writecream is a recent launch and is doing amazingly well in the digital market. It has gained popularity within a very short period of time because of its unique features, accessibility and affordability.  You can also rely on Writecream for all your personalization needs such as email marketing, LinkedIn personalization, generating ice-breakers, and much more.
Features of Writecream:
1. User Interface: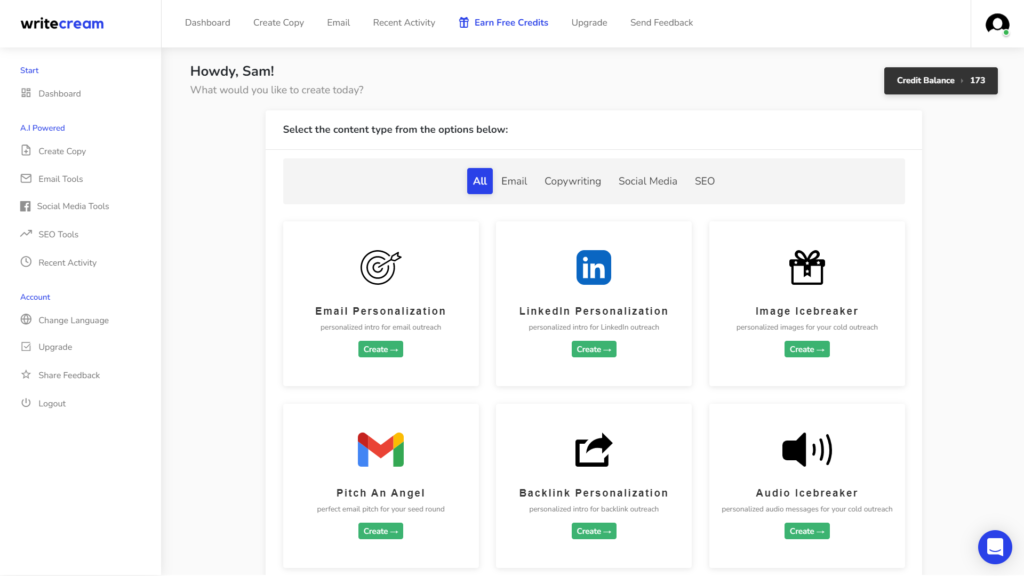 Writecream has a great user-interface. This tool is super convenient to use. Sign up for a free account at Writecream and your main dashboard appears. The dashboard displays all the use cases available and one can choose from this diverse set of options.
2. Diverse set of Use Cases:
Writecream offers at least 30+ use cases to its users which help clients generate content for cold emails, LinkedIn outreach, backlink campaigns, social media content, digital ad copies, articles and blogs and audio and video scripts, etc.
3. Personalized features:
Writecream offers a number of personalized features like Emails, image icebreakers, product reviewers, etc. These features are being used extensively by clients to boost their sales tremendously!
4. Language Selection:
Language is not a barrier for Writecream. Clients can create content in 75+ languages with the help of Writecream and choose from over the diverse set of languages for text, image and audio outputs.
5. 30+ Tones:
Writecream offers 30+ writing tones to its clients ranging from a casual to an assertive tone required for professional dealings.
6. Money-back Guarantee:
Writecream offers its users a no-questions-asked refund within 30 days of subscribing to any of the plans. A refund request can be sent on their live support channel or on email.
7. Plagiarism- Free Content:
Writecream generates content that is 100% plagiarism-free with top-notch quality and grammar usage. The AI-powered tool generates a unique piece of content every time you click on the generate button.
8. Workspace Management:
Writecream helps you keep your work organized and all in one place. It includes a feature where all your work history is managed and can be accessed anytime you want.
9. Live Chat and Support:
As soon as you enter Writecream's website, there's a live chat and support option at the bottom right corner of the website, and is available even if you aren't logged in.
10. AI Article Writer- 
Generate long-form content like articles and video scripts in minutes. Writing a 1000+ word article takes less than 30 minutes!
11. Facebook and Google ads-
Generate ad copies for Facebook and Google at the click of a button by just entering your company name and a short description for it.
12. Social Media Content-
From ideas for social media posts to writing their content, you can do everything using the power of Writecream's Social Media Engine, powered by A.I.
13. Cold Emails, LinkedIn InMails, Backlinks- 
Generate personalized introductions for cold outreach campaigns, including cold emails, LinkedIn InMails & connection requests, and backlinks with this tool!
14. Image and Audio Ice-breakers-
Image Icebreakers help you up your personalization game with image and human-sounding icebreakers designed specifically for your prospect.
15. YouTube Voice-over and Podcast-
Turn any blog article into a human-sounding podcast or voice-over for a YouTube video. Writecream offers 40+ voices with multi-lingual support.
Some Extra features offered by Rytr
1. Custom Use Cases:
Rytr has recently launched some custom use cases. Users can now create/design their own use case by providing some training data to the AI. It's pretty similar to coding without giving codes!
2. Live Profiles:
Another latest feature is profiling. Users can now create their profiles on Rytr and start onboarding clients from around the world.
3. Writing Contests:
Rytr has also rolled out a writing contest called "Stories of Solace". Writers can submit their entries for the contest and can win amazing prizes.
Some extra features offered by Writecream
1. Custom Pricing Plan:
Writecream is a very affordable platform with a number of plans catering to the needs of different users. Apart from the standard plans, it has also launched an option to create a custom pricing plan where users can write to them about their proposal.
2. Human Voice-Over:
Writecream also helps users convert their blog posts to a YouTube video, podcast, or voice-over by using the Human Voice tool.
3. Copywriting Formulas:
Writecream, being in its initial stages, has made tremendous progress. It has also incorporated copywriting formulas in its system. Its copywriting tools are based on scientific formulas like the Before-After-Bridge and Pain-Agitate-Solution.
4. Video Tutorials:
Writecream offers video tutorials for each and every feature and use case. This helps clients to get acquainted with the features without spending much time navigating.
5. Image Icebreaker Tool
Writecream has this amazing tool called image icebreakers. These are personalized images made through AI and are used for cold outreach. This tool is gaining popularity among business owners and marketers. It is widely being used by customers to generate premium images with quality content.
For details, you just need to enter the website URL, for example, Medium.com in this case. Then, click on the generate button and your results will be displayed.
Here are the results!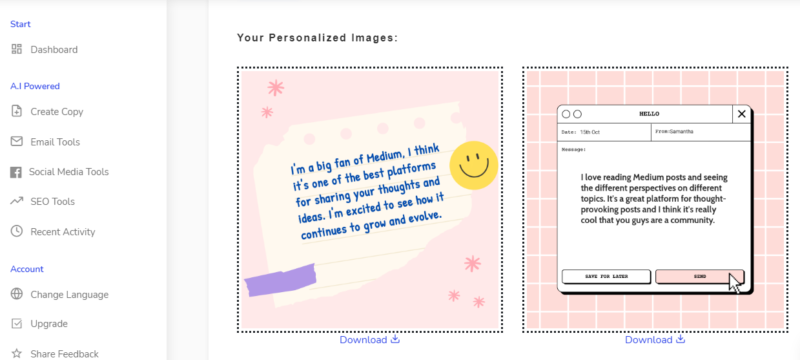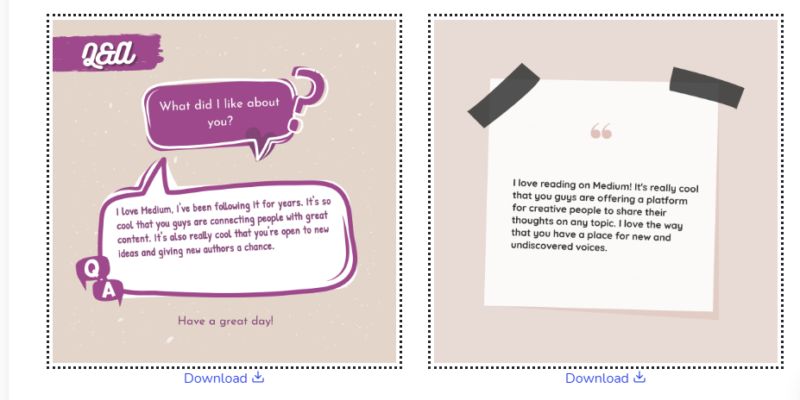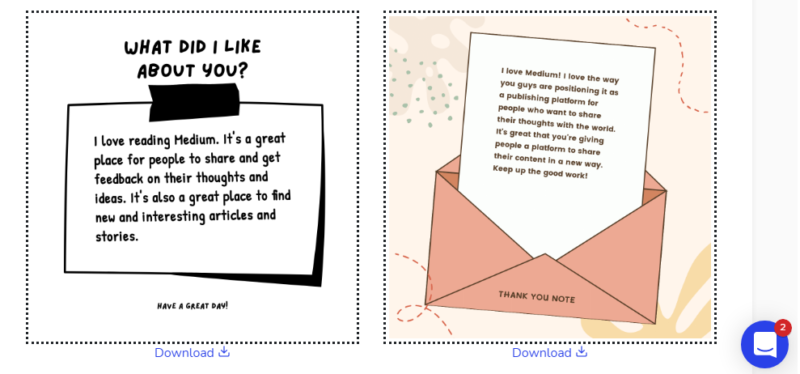 This feature is not present in Rytr as of now. You can generate personalized texts but not images.
6. Voice-over Tool:
Writecream has another exclusive feature for its clients, "Voiceover Tool". It helps in converting text to speech with the help of AI. You can choose any language from the 75+ available. You can also choose a gender for voice. There's another option to choose speed and optimization for your voice-over.
Here's an example (the voiceover for the video below was generated using Writecream) :
A few seconds and a premium quality text-to-speech output is ready.
Rytr doesn't have a similar tool.
7. Backlink Assist:
Writecream offers a Backlink Assist feature which helps in creating a personalized intro for backlink outreach. You just need to enter the blog article URL and click on the generate button and your personalized message is ready for your outreach campaigns!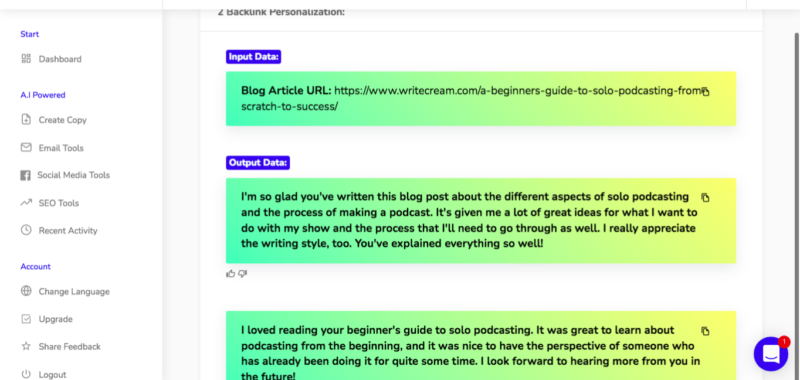 Here are the results for Backlink Personalization.
8. YouTube Voice-over and Podcast:
Turn any blog article into a human-sounding podcast or voice-over for a YouTube video with 40+ voices available with multi-lingual support.
In the above comparison, we can see that Rytr has a couple of extra features to offer while Writecream offers a considerably large amount of features. This is the sole reason that makes Writecream stand out from the crowd. Writecream offers some very unique features in the content marketing world that no other AI platform ever has. It has become everyone's favorite in such a short period of time because of its originality.
Output Quality Comparison
For our comparative study, let's now take a look at the output quality of content generated through these tools and other related aspects.
Let's check the output quality of the Email Personalization Feature for both tools. I took the example of the following blog article written by best-selling author Jacob Morgan: Leadership Trends You Must Know: Pace Of Change
Rytr:
Here's the output generated using Rytr: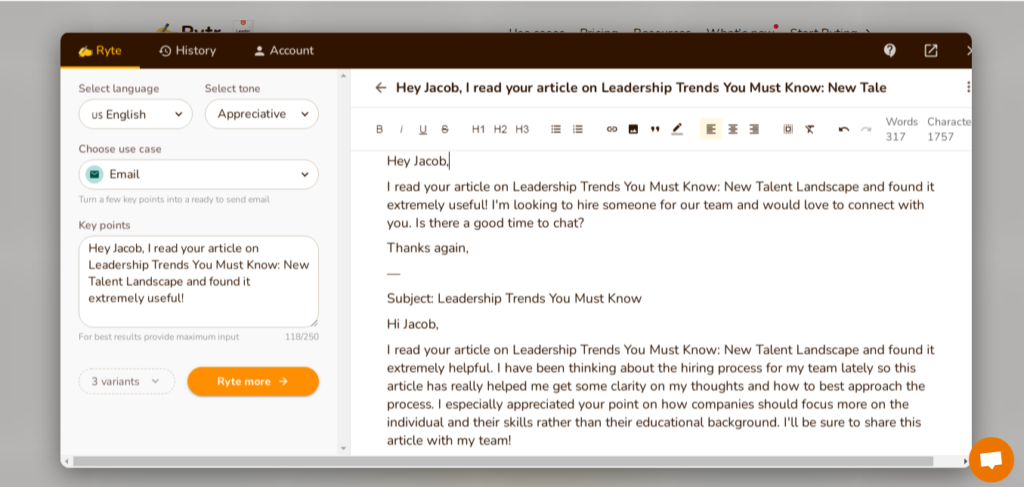 Output 1

Hey Jacob,

I read your article on Leadership Trends You Must Know: New Talent Landscape and found it extremely useful! I'm looking to hire someone for our team and would love to connect with you. Is there a good time to chat?

Thanks again.

Output 2 

Subject: Leadership Trends You Must Know

Hi Jacob.
I read your article on Leadership Trends You Must Know: New Talent Landscape and found it extremely helpful. I have been thinking about the hiring process for my team lately so this article has really helped me get some clarity on my thoughts and how to best approach the process. I especially appreciated your point on how companies should focus more on the individual and their skills rather than their educational background. I'll be sure to share this article with my team!
Writecream :
Here's the output generated by Writecream's Email Personalization tool:

Output 1

I am so glad to read your article on leadership trends that you must know. You have beautifully explained how and why leadership is changing and what it takes to be a successful leader. To answer this question you spoke with over 140 CEOs around the world from organizations like Best Buy. These CEOs collectively identified 6 trends which are shaping leadership, both today and in the future. I am sure that these trends will help me be a better leader.

Output 2

I really liked your article about leadership trends you must know. I found it quite informative and insightful. You've explained how and why leadership is changing and what it takes to be a successful leader. The six trends that you've mentioned are shaping leadership, both today and in the future. I found the pace of change really interesting. I'm sure that these trends will help a lot of people.
Both the outputs are pretty good for a start. The outputs are plagiarism-free and are perfectly aligned with the grammatical rules.
But Rytr's outputs somehow lean towards hiring whereas the article is about leadership (the article's title is 'Leadership Trends You Must Know: New Talent Landscape')
Writecream, on the other hand, presented a unique output that will catch the prospect's eye, making them think that you actually did some good research before contacting them and you are not just building sandcastles in the air.  This makes Writecream's output stand out.
Language Support:
1. Rytr:
Rytr supports 30+ languages.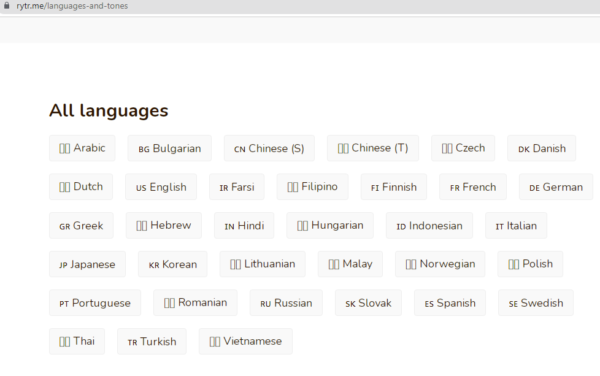 2. Writecream:
Writecream has wide linguistic support with 75+ languages deeded in the system.

Reviews Comparison (Average Rating on G2, Trustpilot, Capterra and AppSumo)
Rytr Reviews:
Rytr has gathered a 4.8+ rating from its users worldwide. Here are the average ratings of Rytr on some popular websites.
1. Trustpilot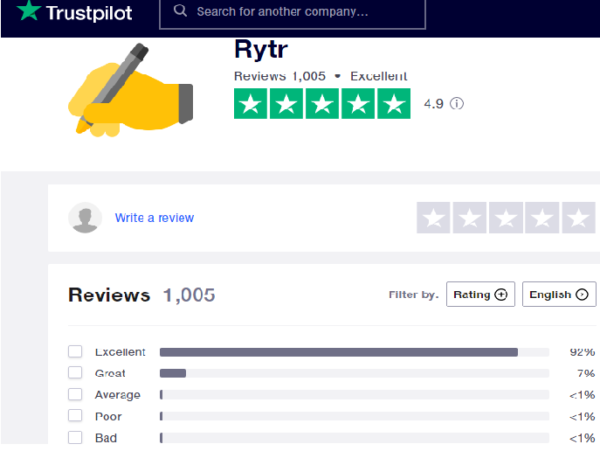 2. AppSumo

3. G2
Writecream Reviews:
Writecream has gathered a 4.8+ rating from its users worldwide. Here are the average ratings of Writecream on some popular websites.
1. Trustpilot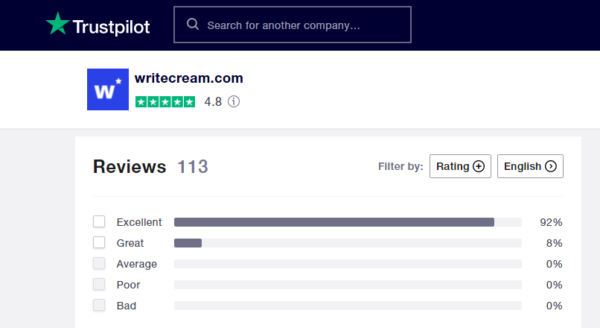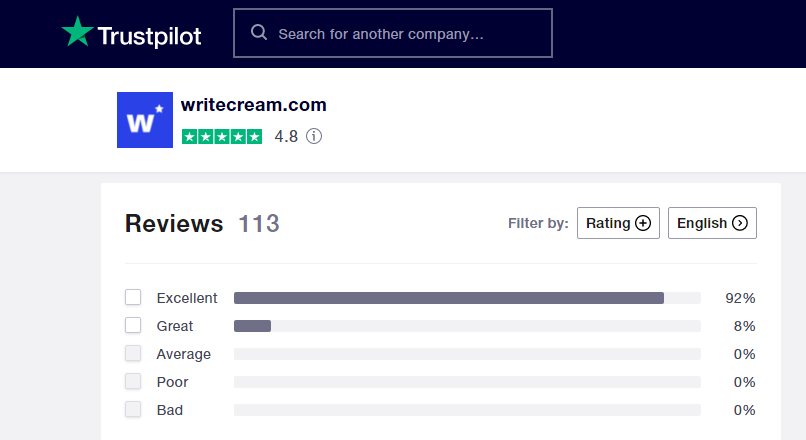 2, G2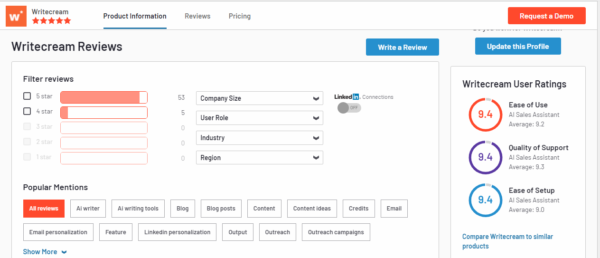 3. Capterra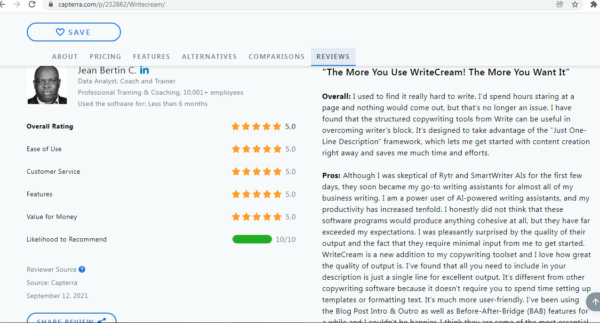 4. AppSumo
Both the tools are very popular among users and have received an amazing rating on different websites. This clearly indicates the utility and efficiency of these AI-powered platforms.
Almost all the appraisals are in favor of Writecream. The users particularly like the Cold Outreach and other personalization tools. They say that it helps them to stand out from the crowd. 
The quality and the time-saving quality of the Writecream tool have been highly praised by the users. The only thing that we can consider as the downside according to the reviews is the credit system but the users are satisfied with the main function. Some users also criticize the font color or style, but that is more of a personal choice, it does not affect the main function of the tool. The personalization tools and cold outreach text generator pass with flying colors according to the reviews.  Writecream is a very unique tool offering some newfound technologies using Machine Learning and AI, its reviews are proof that it will soon become the new ruler in the professional world.
Pricing:
1. Pricing Plans of Rytr:
Rytr offers a number of plans for its varied customers.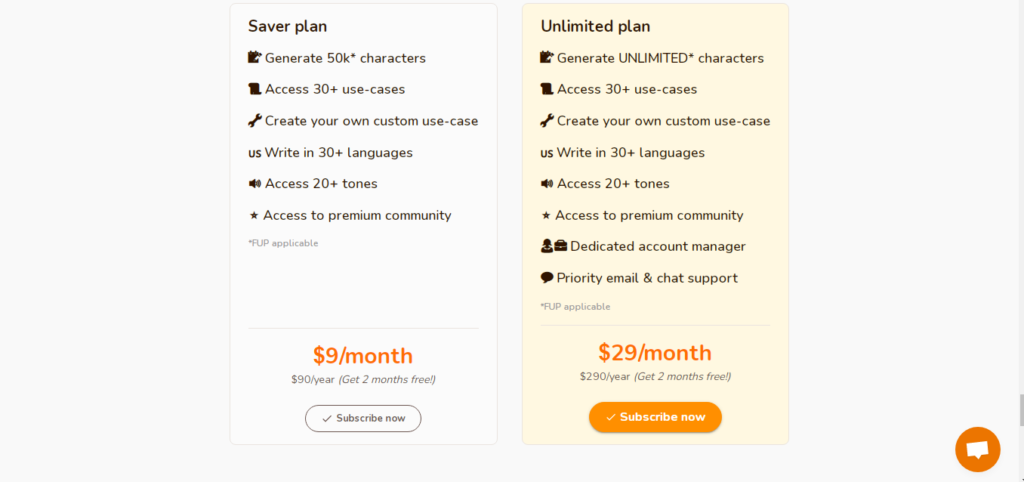 Free Plan: Rytr offers its users a free plan where a user can generate 5000 characters. But sometimes business needs are not met because of these constraints and therefore a user can upgrade to a premium plan for unlimited usage.
Saver Plan: Under this plan, Rytr offers access to 30+ use cases in 30+ languages and 20+ tones and an exclusive feature to create your own custom use-case. It also provides access to the premium community and helps in generating 50000+ characters. The Saver Plan costs $9/ month and $90/year with a free trial of 2 months.
Unlimited Plan: This is usually suitable for clients who are content marketers and content generation forms a major part of their business. This costs $29/month and $290/ year with a 2-month free trial. This plan, along with the offers of the saver plan, also appoints a dedicated account manager to help clients manage their accounts. It also offers unlimited characters and priority email and chat support.
2. Pricing Plans of Writecream:
Writecream offers a number of plans to its users. These plans have been meticulously made keeping in mind the interests and requirements of varied users.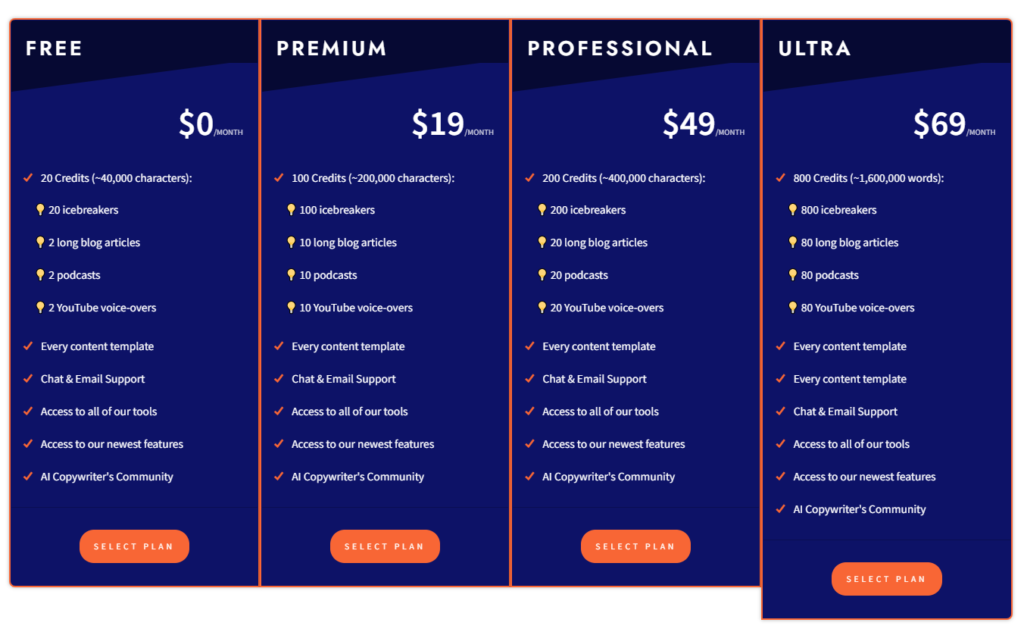 Free Plan: Writecream offers all its features in the free plan with 20 credits and 40,000 characters. It also provides access to its newest features and chat and email support for queries.
Premium Plan: This plan costs $19/month and provides 100 credits and a limit of 200,000 characters. It also provides access to the AI Copywriter community and upgrades the number of outputs generated for image icebreakers, long-form articles, podcasts, etc.
Professional Plan: This plan offers 200 credits along with a character limit of 400,000 characters. It also upgrades the outputs generated from 200 to 500 image icebreakers, 50 blog articles, and podcasts, etc. It also includes all features of previous plans including the chat and email support and access to the AI Copy writer's community. This plan is most suitable for marketing agencies whose business forms a major portion of content and email marketing. It costs $49/ month.
Ultra Plan: Under this plan, 800 credits are available along with a characters limit of 1,600,000 words, suitable for business professionals, marketing agencies, and digital marketers. It also upgrades the output generated from 500 to 1000 icebreakers, 100 long blog articles, podcasts, and YouTube voiceovers. This plan costs $69/month. It provides unlimited access to all of the tools at Writecream and also offers live chat and email support.
People who do not run businesses and need AI tools to generate articles or any voiceovers or podcasts for their school work can use the website as an open-source platform for their needs. The credit system of Writecream offers more options and the limits are not as constrained as compared to Rytr. Writecream offers credits for podcasts, voiceovers, Ice-breakers, Long-form editor, all in one subscription and this comes at a very cost-effective price and we are sure you will love Writecream for every penny you spent on it.
Tutorials for Reference:
Both Rytr and Writecream have provided tutorials so that the users can get acquainted with the features and use cases. This helps users to save time that would have spent exploring the tools themselves!
1. Tutorials on Rytr:
Rytr has guides in its 'Resources' section which explains the usage of various use cases.  Visit Rytr's website and find the 'Resources' Section on the top. Check the table of contents and you can find the guide there. You can also visit their YouTube channel where some tutorials are published. Rytr has not uploaded many tutorials for its tools.
2. Tutorials on Writecream:
To find the tutorials, visit the website and find the 'Tutorials' Section on the top rightmost corner. It directly takes you to the YouTube channel where the tutorials are published. Apart from tutorials, Writecream also has a blog section that shares blog articles regarding specific tools!
The Customer Support provided by Writecream is available 24×7 and it is very impressive. You can use ChatBot on their website and report any grievances or any problems you are facing. Writecream customer support usually takes a few minutes to get back to you with a solution.
Some tutorials for its flagship features like Cold Emails, Backlink outreach, and LinkedIn Inmails are also present on the homepage.

Future Outlook:
Roadmap for Rytr:
Rytr is working to introduce more and more features and tools to ease the numerous writing problems!
Some of the features planned are:
API for integrations with other apps
Sharing and collaboration for clients & teams
Add language optimizer for enhancing grammar and reading quality
Search functionality for better discoverability
SEO analyzer for suggesting areas for optimal content quality
Personalization based on writing style
Roadmap for Writecream: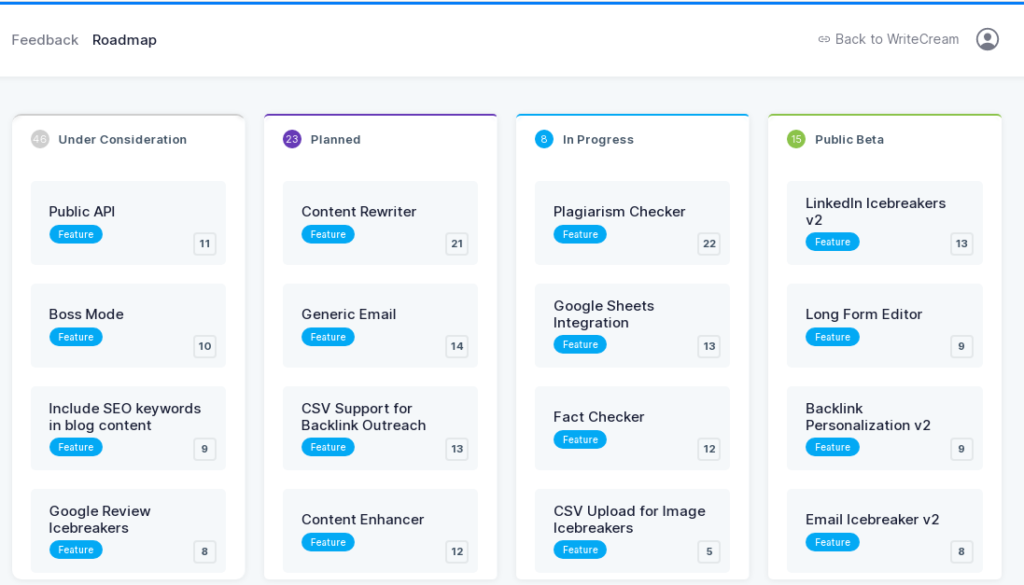 Writecream is working diligently to improve its platform and solve the diverse problems of its users. It also has a section where users can put feature requests and share their feedback on existing features. The image above shows some of the features that are planned or lined up to be launched soon and some are under consideration. There's not an iota of doubt that Writecream is soon going to dominate the content marketing world!
Which one is best for you?
Both the tools have their pros and cons.  But the one which proves to give more utility and increase your productivity and therefore sales is the one you should go for!
Writecream is a 'one of a kind' tool for content marketing. It is easy to use, and the AI makes it possible to generate content on demand. The AI is constantly learning and becoming more sophisticated with each piece of content it writes, making it a powerful tool for marketers who are always looking for ways to improve their content. The pricing is great for all budgets and there's no credit card required. The writing is of high quality and plagiarism-free.
This tool has proved to be a lifesaver for marketers who are always on the go and need to write blog posts, articles, and content for other channels. The AI technology takes care of the repetitive tasks of writing and making sure the content is consistent, while the writer focuses on what the content should be about.
It tops in the domains of personalization and generation of ice-breakers, podcasts, voiceovers, SEO, creating ad copies for various inbound marketing campaigns, etc. Even the Long-Form editor that Writecream offers to generate blog articles produce better output as compared to the one featured by Rytr.
The best thing about Writecream is that even being a new player in the market it is offering some unique features like personalized image icebreakers, audio icebreakers and the voice-over tool! These features are not available even with the old players and that's what makes Writecream superior to its competitors!
Rytr also has some amazing features but the seamless interface and user experience are what that gives Writecream an edge over Rytr! WriteCream is focused on personalized content and an amazing personalized experience!
Conclusion:
Writecream and Rtyr are two different tools that are used to create content. They both have different features, strengths, and weaknesses. In order to compare the two and choose for ourselves, we need to look at their strengths and weaknesses. The strengths of Writecream are that it has a wide range of styles and that it has a lot of features. Also, Writecream's multi-linguistic support of 75+ languages gives it a competitive edge over Rtyr.
When it comes to output quality, Writecream is top-of-the-line. Also, it has been a huge hit with the digital publishing community. It is a new tool and users are already loving it! It understands the user and creates content that is suitable to their brand and their niche. Each piece of content created by Writecream is personalized and apt for marketing campaigns. The content generated through the AI servers of Writecream makes your brand stand out from the crowd and that too, flawlessly!
So give it a try and check it out yourself here!
Let us know your thoughts in the comment section below!
Writecream provides 30+ tools for generating tons of content within seconds! Use Writecream to generate product descriptions, personalized emails, blog articles and much more and that too for free! Our free plan provides 20 credits every month which helps you generate 10,000 words per month!
Isn't it amazing?
To get started, register here for our FOREVER FREE plan NOW!