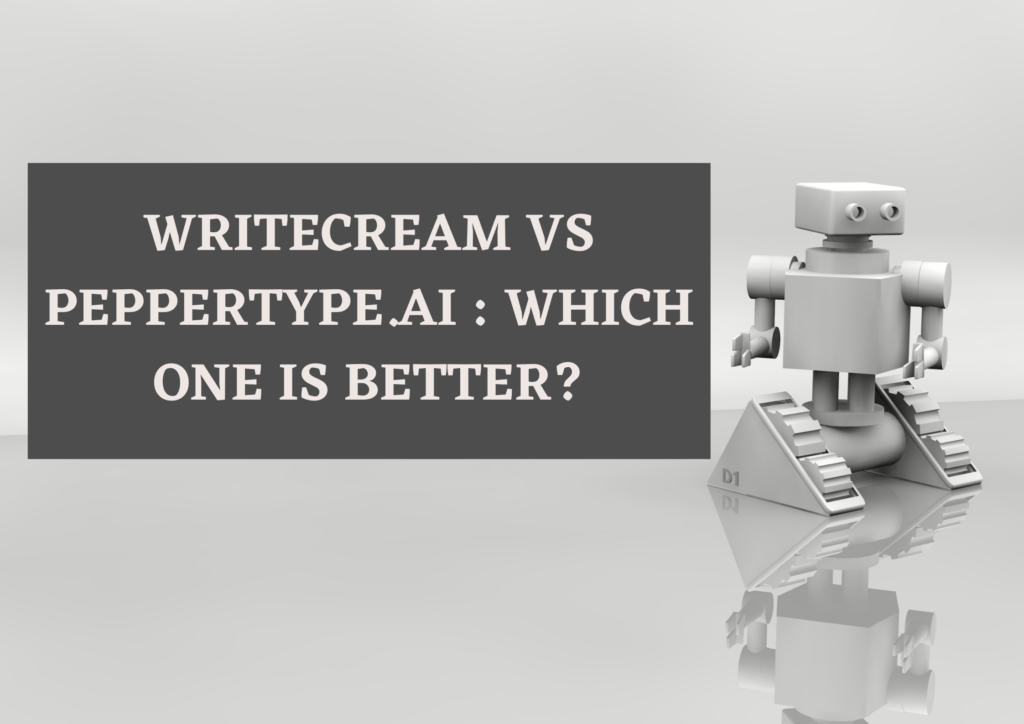 With the discovery of the power of AI and deep learning, new machine learning models are taking the world by storm. This has been huge for all the industries that are using AI. But no industry has been impacted more than content writing. The boom of the AI-powered marketing companies is a key driver of this change. And the next industry that will see the benefits of AI is content writing.
Artificial Intelligence promises to work on our behalf to make our life easier, faster, simpler and more productive. Its potential is only limited by the volume and complexity of data that can be processed. AI-powered products have changed the way we live our lives. One of the major tasks that AI has been doing is generating content. 
There are a number of AI-powered tools in the market that are helping businesses and startups to generate content within seconds with the help of their super-fast technology.
This blog is a comparative study of two such tools that are doing great in the digital market. These are: Writecream and Peppertype.ai!
💡 Generate personalized emails, blog articles, product descriptions, and ads in seconds using the power of A.I
Both these tools are being used extensively by business owners and marketers to ease their work by delegating it to the online content generators.
Let's first get to know a bit about these tools!
Peppertype.ai :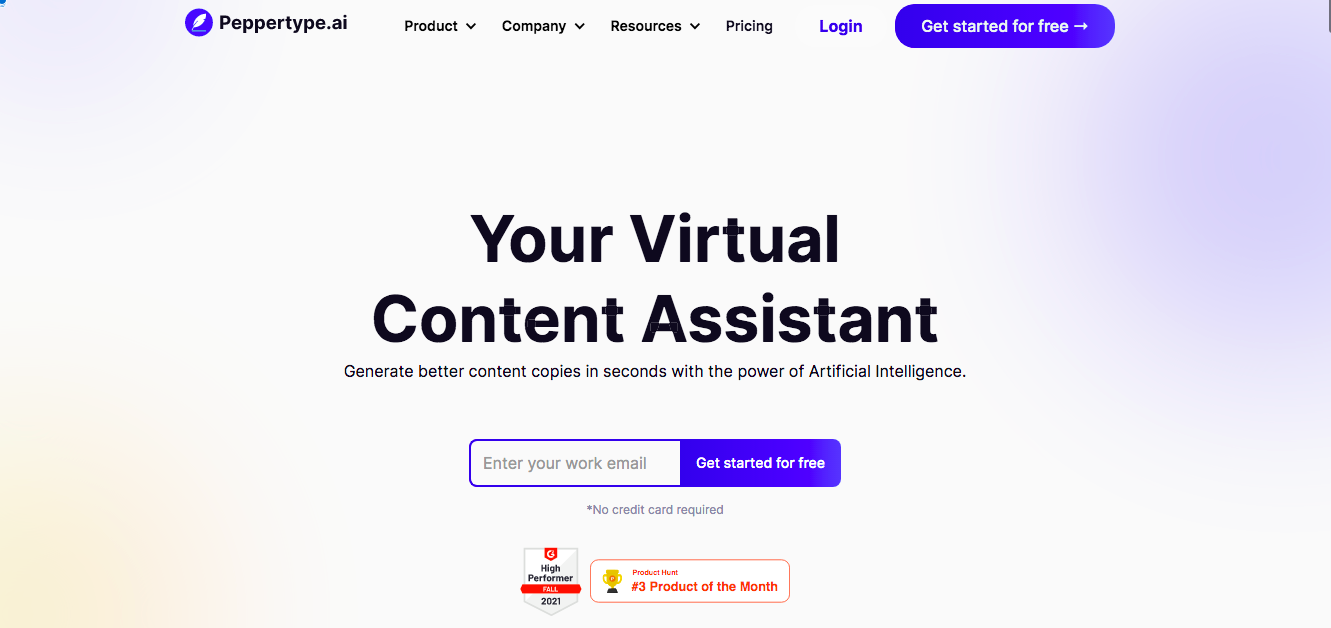 Peppertype.ai is an instant content generator powered by artificial intelligence. Using Peppertype.ai is an easy way to solve your writing problems. Content marketing has been the cornerstone of marketing strategy for decades. If you want to succeed at content marketing, you need to know how to create amazing content. The key is to create creative and engaging content that attracts readers. The trouble is that writing good content is hard. With Peppertype.ai, the difficulty of creating creative and engaging content is put on hold.
Features of Pepper type.ai
1. User interface:
The user interface of Peppertype.ai is very easy to manage. As soon as you sign up for an account, your main screen appears like this: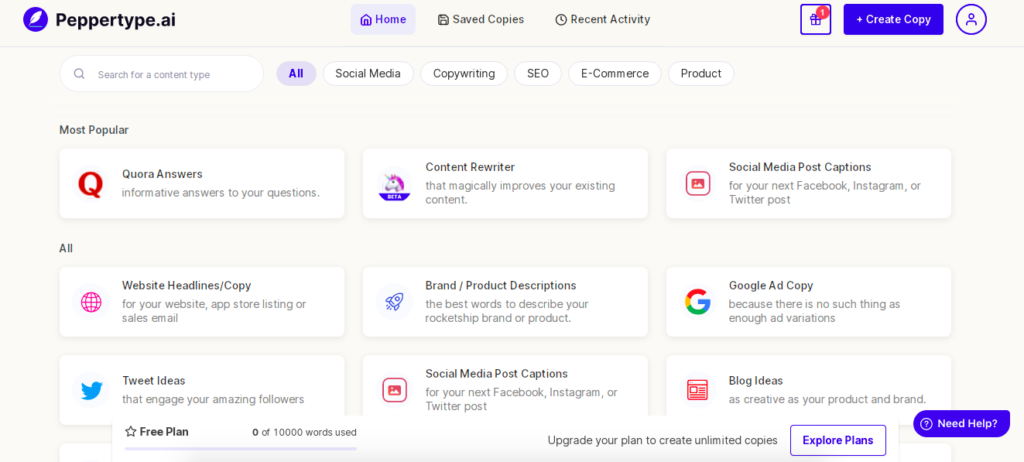 It displays a number of use cases to choose from like Quora answers, Blog Ideas, Tweet Ideas, Website Headlines, Social Media Post Captions and Ad Copy, etc. A user can select any case and furnish details regarding his/her requirements and can start generating outputs in a nick of time! However, it doesn't offer a seamless user experience. It doesn't allow easy scrolling  and scanning through the tools.
2. Language Selection:
Peppertype.ai offers 30+ languages to its users. One can generate content not only for the target audience of one's own country but also the target audience of other countries. It provides professional translation services for blogs, websites, subtitles, apps and chats
3. 30+ Use Cases:
Peppertype.ai has 30+ use cases consolidated under one roof. It offers a diverse set of cases like Blog and Tweet Ideas, social media and website content, ad copies, product descriptions and much more. These tools are helping clients worldwide to generate content in multiple forms and styles.
4. Generating Content with Scientific Copywriting Formulas:
Peppertype.ai has also launched some use cases that use copywriting formulas such as AIDA, BAB & PAS to provide best quality output that requires minimal to no edits. The usage of these scientific formulas for copywriting is doing wonders in the content marketing world.
5. Quality Content:
Peppertype.ai ensures that the content generated shows 0% plagiarism and is rich in quality. It can generate a long form blog with perfection in just minutes. It also offers extensive formatting options and makes sure that the content generated is grammatically accurate and of top-notch quality.
6. Manage Workspace:
With Peppertype.ai, a user can organize their content efficiently in the Activity section. It displays all the search outputs and one can navigate through it to refer to previous work.
7. Live Support:
Peppertype.ai also offers live support on its display screen. This helps its clients to clear their doubts while using the tool. With a premium account, the queries are addressed at priority level.
Writecream: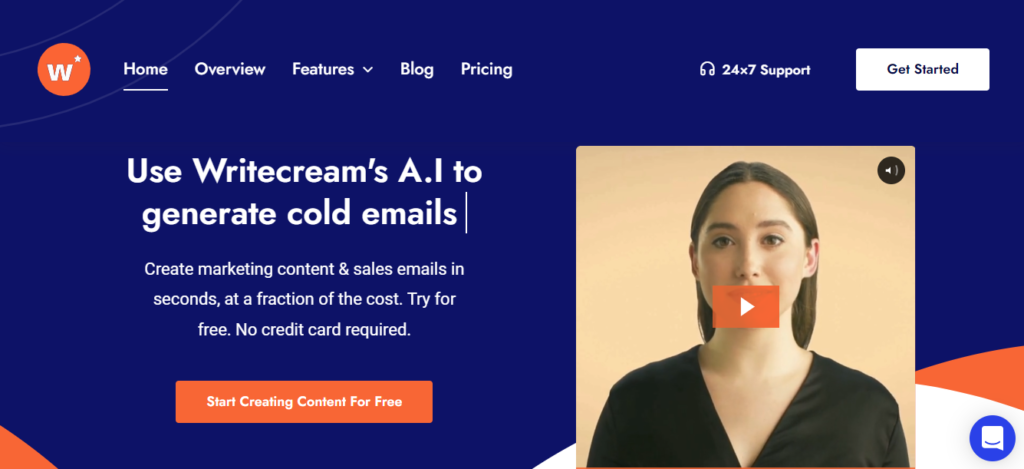 Writecream is another AI-powered tool used by writers and content marketers for all their writing problems like generating personalized introductions and messages for Cold Emails, LinkedIn Outreach, generating Blog ideas, Website Copy, Social Media content and much more.
This tool has the ability to increase your productivity manifold by generating tons of content within seconds. Writecream is a recent launch and is doing amazingly well in the digital market. It has gained popularity within a very short period of time because of its unique features, accessibility and affordability.  You can also rely on Writecream for all your personalization needs such as email marketing, LinkedIn personalization, generating ice-breakers, and much more.
Features of Writecream:
1. User Interface:
Writecream has a great user-interface. This tool is super convenient to use. Sign up for a free account at Writecream and your main dashboard appears. The dashboard displays all the use cases available and one can choose from this diverse set of options.
2. Diverse set of Use Cases:
Writecream offers at least 30+ use cases to its users which help clients generate content for cold emails, LinkedIn outreach, backlink campaigns, social media content, digital ad copies, articles and blogs and audio and video scripts, etc.
3. Personalized features:
Writecream offers a number of personalized features like Emails, image icebreakers, product reviewers, etc. These features are being used extensively by clients to boost their sales tremendously!
4. Language Selection:
Language is not a barrier for Writecream. Clients can create content in 75+ languages with the help of Writecream and choose from over the diverse set of languages for text, image and audio outputs.
5. 30+ Tones:
Writecream offers 30+ writing tones to its clients ranging from a casual to an assertive tone required for professional dealings.
6. Money-back Guarantee:
Writecream offers its users a no-questions-asked refund within 30 days of subscribing to any of the plans. A refund request can be sent on their live support channel or on email.
7. Plagiarism- Free Content:
Writecream generates content that is 100% plagiarism-free with top-notch quality and grammar usage. The AI-powered tool generates a unique piece of content every time you click on the generate button.
8. Workspace Management:
Writecream helps you keep your work organized and all in one place. It includes a feature where all your work history is managed and can be accessed anytime you want.
9. Live Chat and Support:
As soon as you enter Writecream's website, there's a live chat and support option at the bottom right corner of the website, and is available even if you aren't logged in.
10. AI Article Writer:
Generate long-form content like articles and video scripts in minutes. Writing a 1000+ word article takes less than 30 minutes with this amazing tool.
11. Facebook and Google ads:
Generate ad copies for Facebook and Google at the click of a button by just entering your company name and a short description and let Writecream's AI tool do the magic!
12. Social Media Content:
From ideas for social media posts to writing their content, you can do everything using the power of Writecream's Social Media Engine, powered by A.I
13. Cold Emails, LinkedIn InMails, Backlinks:
With these features, users can generate personalized introductions for cold outreach campaigns, including cold emails, LinkedIn InMails & connection requests, and backlinks.
14. Image and Audio Ice-breakers:
You can up your personalization game with image and human-sounding icebreakers designed specifically for your prospect.
15. YouTube Voice-over and Podcast-
Turn any blog article into a human-sounding podcast or voice-over for a YouTube video with 40+ voices available with multi-lingual support only on Writecream.
Some Extra features offered by Peppertype.ai
1. Graphic Designs:
Peppertype.ai offers high quality graphic design services tailored for its users requirements. It helps its users create a design project with the help of a curated network of designers and accountable work flows and tracking.
2. Custom Content Type Requests:
Another latest feature is custom use cases requests. Users can send requests if they need a particular content type case. This service is available only on paid plans!
3. Language Services:
Peppertype.ai offers exclusive language services to its customers. These services include editing, translating and subtitling in more than 30+ languages. It has a premium vernacular content creation tool which translates the text into the user's desired language. 
Some extra features offered by Writecream
1. Custom Pricing Plan:
Writecream is a very affordable platform with a number of plans catering to the needs of different users. Apart from the standard plans, it has also launched an option to create a custom pricing plan where users can write to them about their proposal.
2. Human Voice-Over:
Writecream also helps users convert their blog posts to a YouTube video, podcast, or voice-over by using the Human Voice tool.
3. Copywriting Formulas:
Writecream, being in its initial stages, has made tremendous progress. It has also incorporated copywriting formulas in its system. Its copywriting tools are based on scientific formulas like the Before-After-Bridge and Pain-Agitate-Solution.
4. Video Tutorials:
Writecream offers video tutorials for each and every feature and use case. This helps clients to get acquainted with the features without spending much time navigating.
5. Image Icebreaker Tool
Writecream has this amazing tool called image icebreakers. These are personalized images made through AI and are used for cold outreach. This tool is gaining popularity among business owners and marketers. It is widely being used by customers to generate premium images with quality content. This feature is not present in Peppertype.ai as of now. You can generate personalized texts but not images.
For using these tools, you just need to enter the website URL, for example, Amazon.in in this case. Then, click on the generate button and your results will be displayed.
Here are the results!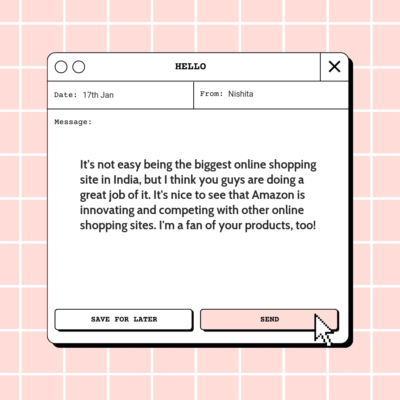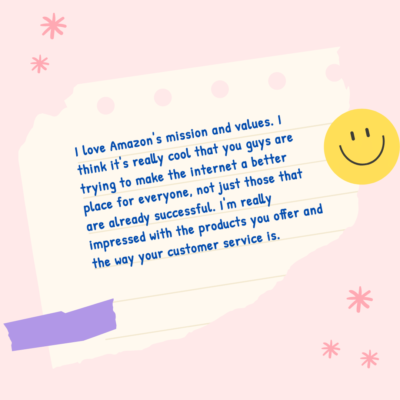 6. Voice-over Tool:
Writecream has another exclusive feature for its clients, "Voiceover Tool". It helps in converting text to speech with the help of AI. You can choose any language from the 75+ available. You can also choose a gender for voice. There's another option to choose speed and optimization for your voice-over.
Here's an example (the voiceover for the video below was generated using Writecream):
A few seconds and a premium quality text-to-speech output is ready. Peppertype.ai doesn't have a similar tool.
7. Backlink Assist:
Writecream offers a Backlink Assist feature which helps in creating a personalized intro for backlink outreach. You just need to enter the blog article URL and click on the generate button and your personalized message is ready for your outreach campaigns!
Here are the results for Backlink Personalization.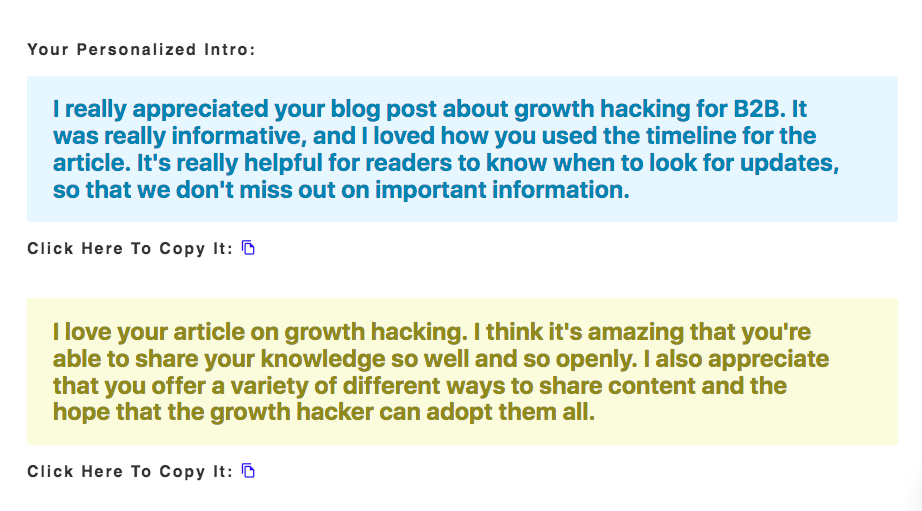 8. YouTube Voice-over and Podcast-
Turn any blog article into a human-sounding podcast or voice-over for a YouTube video. 40+ voices available with multi-lingual support
In the above comparison, we see that Peppertype.ai has a couple of extra features to offer while Writecream offers a considerably large amount of features. This is the sole reason that makes Writecream stand out from the crowd. Writecream offers some very unique features in the content marketing world that no other AI platform ever has. The most unique features include human voice-over tool, podcast generator and image and audio icebreakers! It has become everyone's favourite in such a sho rt period of time because of its originality.
Output Quality Comparison
For our comparative study, let's now take a look at the output quality of content generated through these tools and other related aspects.
1. Blog Introduction Feature:
Peppertype.ai:
Here's the output generated using Peppertype.ai: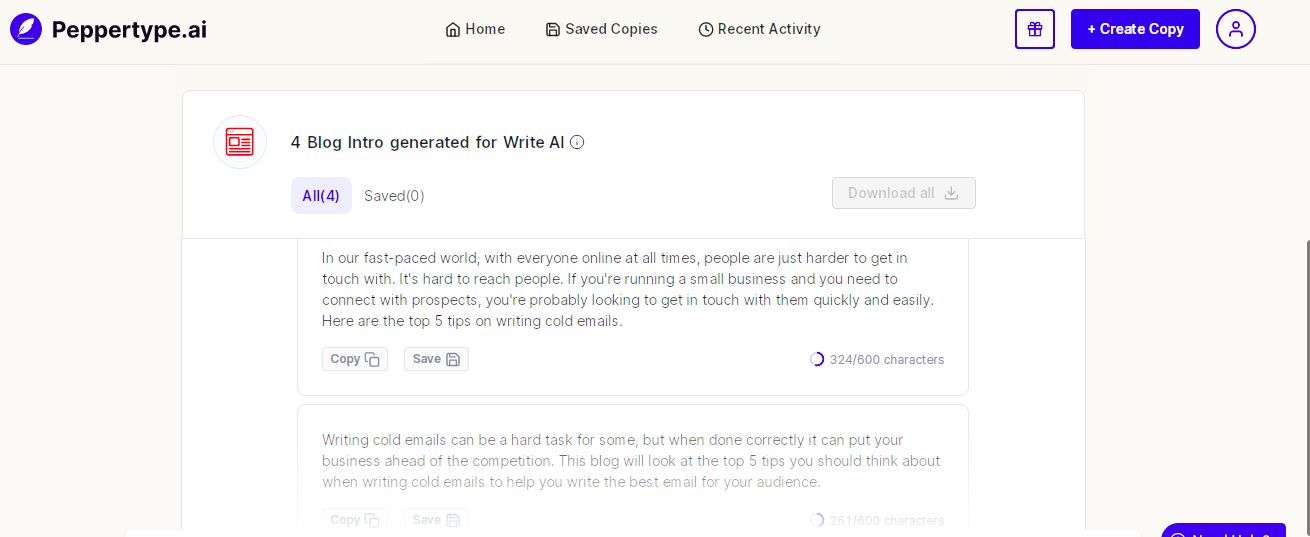 Output 1
In our fast-paced world, with everyone online at all times, people are just harder to get in touch with. It's hard to reach people. If you're running a small business and you need to connect with prospects, you're probably looking to get in touch with them quickly and easily. Here are the top 5 tips on writing cold emails.
Output 2 
Writing cold emails can be a hard task for some, but when done correctly it can put your business ahead of the competition. This blog will look at the top 5 tips you should think about when writing cold emails to help you write the best email for your audience.
Writecream:
Here's the output generated by Writecream's Blog Introduction tool: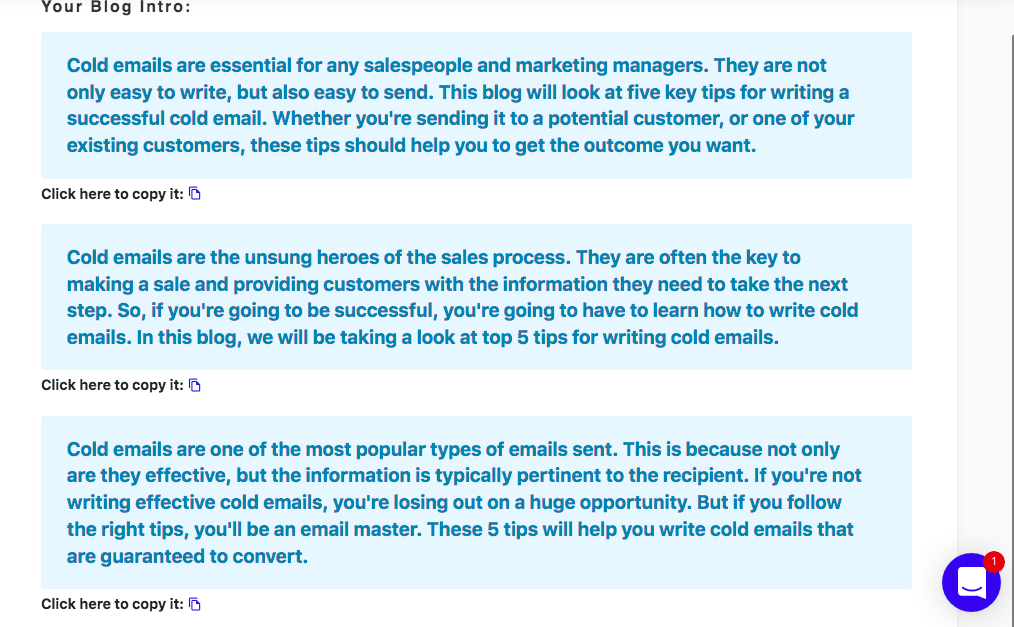 Output 1:
Cold emails are essential for any salespeople and marketing managers. They are not only easy to write, but also easy to send. This blog will look at five key tips for writing a successful cold email. Whether you're sending it to a potential customer, or one of your existing customers, these tips should help you to get the outcome you want.
Output 2:
Cold emails are the unsung heroes of the sales process. They are often the key to making a sale and providing customers with the information they need to take the next step. So, if you're going to be successful, you're going to have to learn how to write cold emails. In this blog, we will be taking a look at top 5 tips for writing cold emails.
Output 3:
Cold emails are one of the most popular types of emails sent. This is because not only are they effective, but the information is typically pertinent to the recipient. If you're not writing effective cold emails, you're losing out on a huge opportunity. But if you follow the right tips, you'll be an email master. These 5 tips will help you write cold emails that are guaranteed to convert. 
Both the outputs are pretty good for a start. The outputs are plagiarism-free and are perfectly aligned with the grammatical rules.
But Peppertype.ai's blog introductions are not as impressive as Writecreams's outputs. Writecream presented unique intros that will catch the readers's eye, making them think that you actually did some good research before writing the blog article.  This makes Writecream's output stand out. Also, Writecream has included more information about cold emails in the first few lines which is an eye-catcher for readers!
2. Pain-Agitate-Solution Formula:
Peppertype.ai
Here, we did an exchange thing!
We tried Peppertype.ai for generating output for Writecream and vice-versa and here are the results!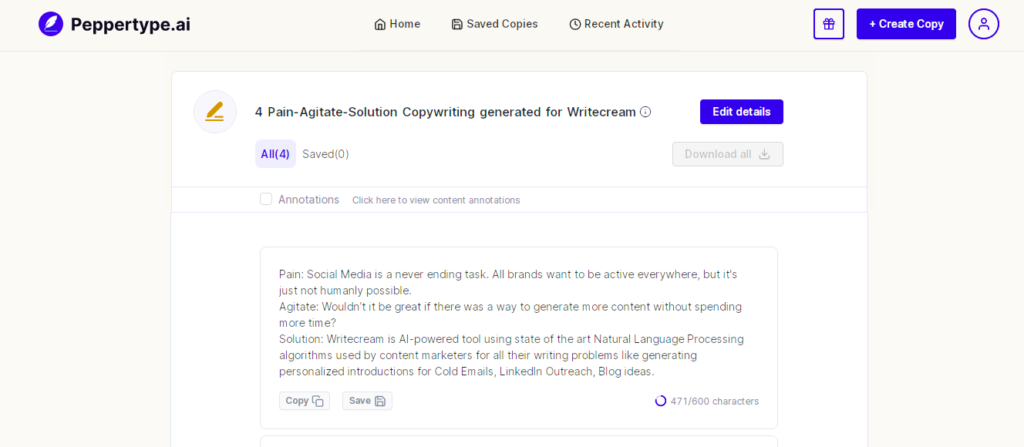 Output 1:
Pain: Social Media is a never ending task. All brands want to be active everywhere, but it's just not humanly possible.

Agitate: Wouldn't it be great if there was a way to generate more content without spending more time?

Solution: Writecream is AI-powered tool using state of the art Natural Language Processing algorithms used by content marketers for all their writing problems like generating personalized introductions for Cold Emails, LinkedIn Outreach, Blog ideas.
Output 2:
Pain: Content marketers have to sift through a lot of ideas in the content marketing brainstorming session.
Agitate: Generate enough ideas for an entire year – instantly!
Solution: Writecream is an AI-powered tool used by content marketers for all their writing problems like generating personalized introductions for Cold Emails, LinkedIn Outreach, Blog ideas.
Writecream
Here are the results generated by Pain-Agitate-Solution tool.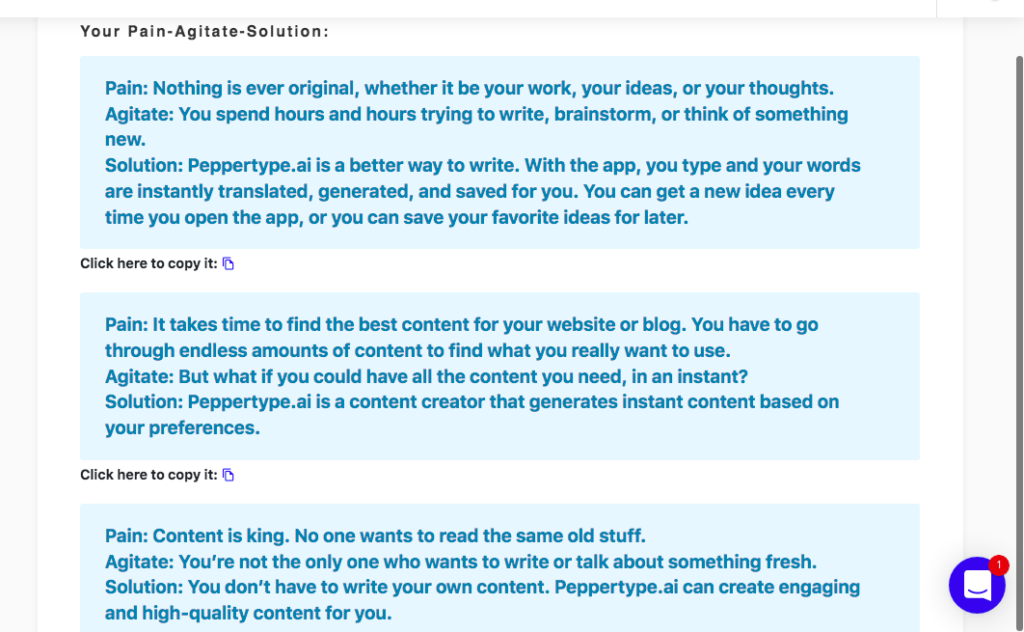 Output 1:
Pain: Nothing is ever original, whether it be your work, your ideas, or your thoughts.
Agitate: You spend hours and hours trying to write, brainstorm, or think of something new.
Solution: Peppertype.ai is a better way to write. With the app, you type and your words are instantly translated, generated, and saved for you. You can get a new idea every time you open the app, or you can save your favorite ideas for later.
Output 2:
Pain: It takes time to find the best content for your website or blog. You have to go through endless amounts of content to find what you really want to use.
Agitate: But what if you could have all the content you need, in an instant?
Solution: Peppertype.ai is a content creator that generates instant content based on your preferences.
Output 3:
Pain: Content is king. No one wants to read the same old stuff.
Agitate: You're not the only one who wants to write or talk about something fresh.
Solution: You don't have to write your own content. Peppertype.ai can create engaging and high-quality content for you.
Output Verdict:
We can see that Writecream generated results which were superior in quality and without repetition of the input!
Language Support:
1. Peppertype.ai:
Peppertype.ai supports 30+ languages and offers translation and subtitling services. It offers services like blog and website content translation, forms and questionnaires and app and chat translations in about 30+ languages!
2. Writecream:
Writecream has wide linguistic support with 75+ languages embedded in the system.


Reviews Comparison (Average Rating on G2, Trustpilot, Capterra)
Peppertype.ai Reviews:
Peppertype.ai has gathered an overall rating of 4.7 from its users worldwide. Here are the average ratings of Peppertype.ai on some popular websites.
1. Trustpilot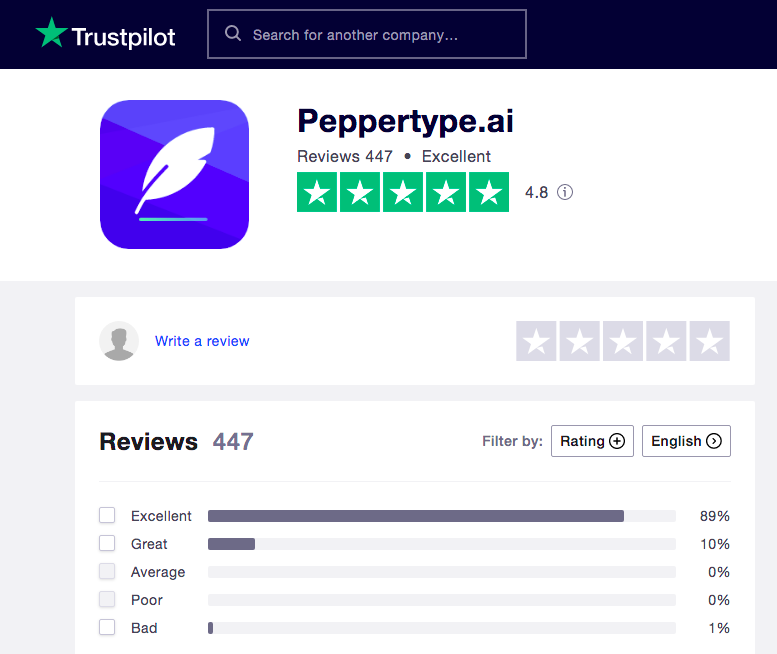 2. G2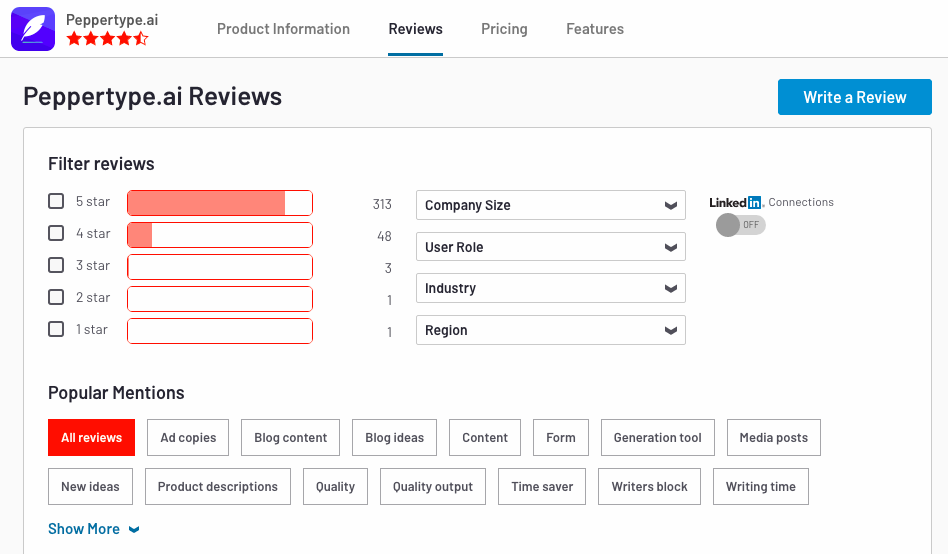 3. Capterra

Writecream Reviews:
Writecream has gathered a 4.8+ rating from its users worldwide. Here are the average ratings of Writecream on some popular websites.
1. Trustpilot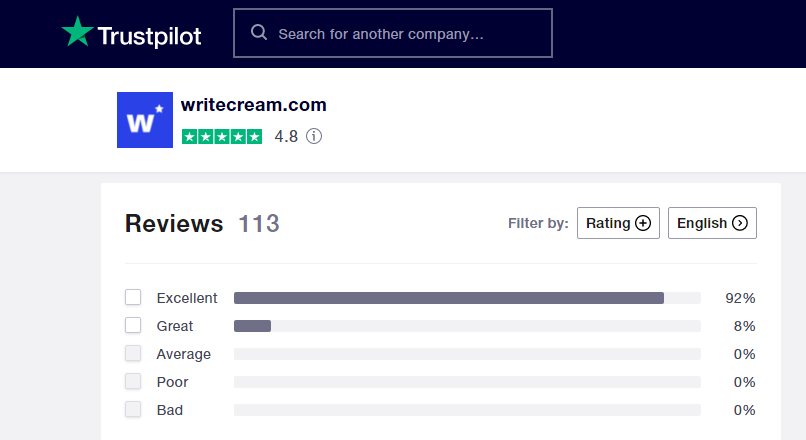 2. G2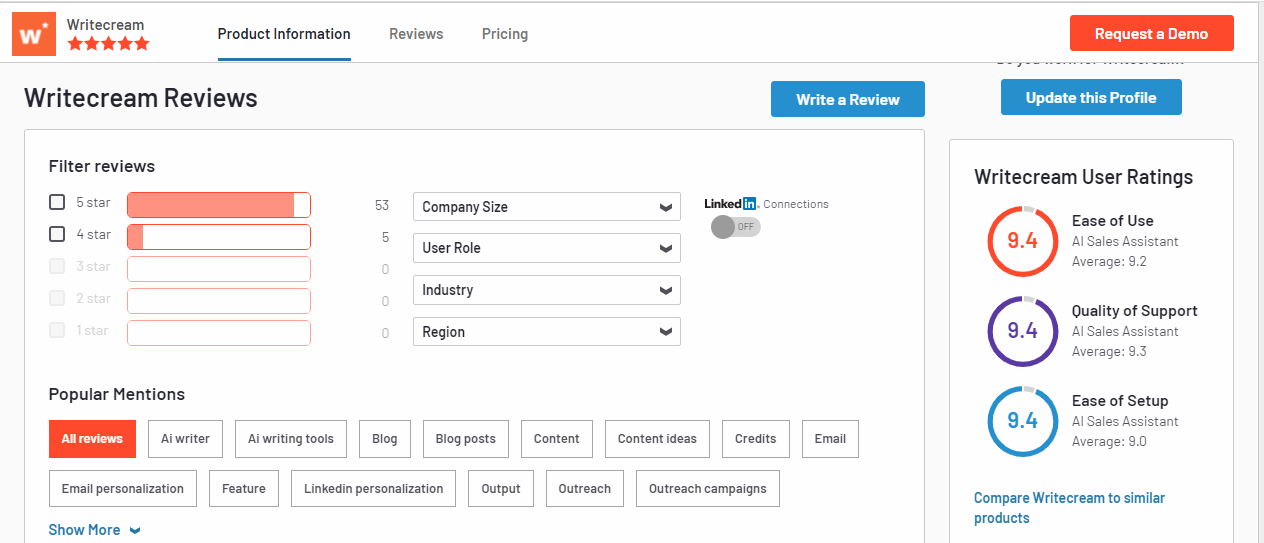 3. Capterra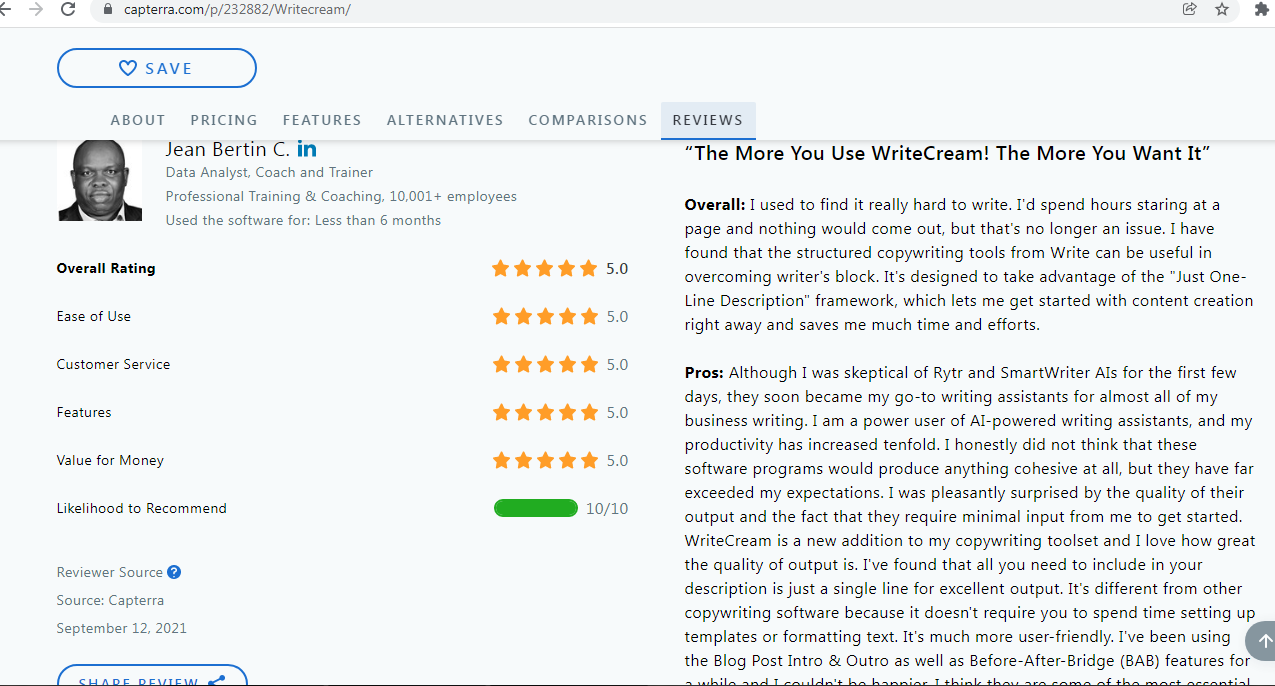 4. AppSumo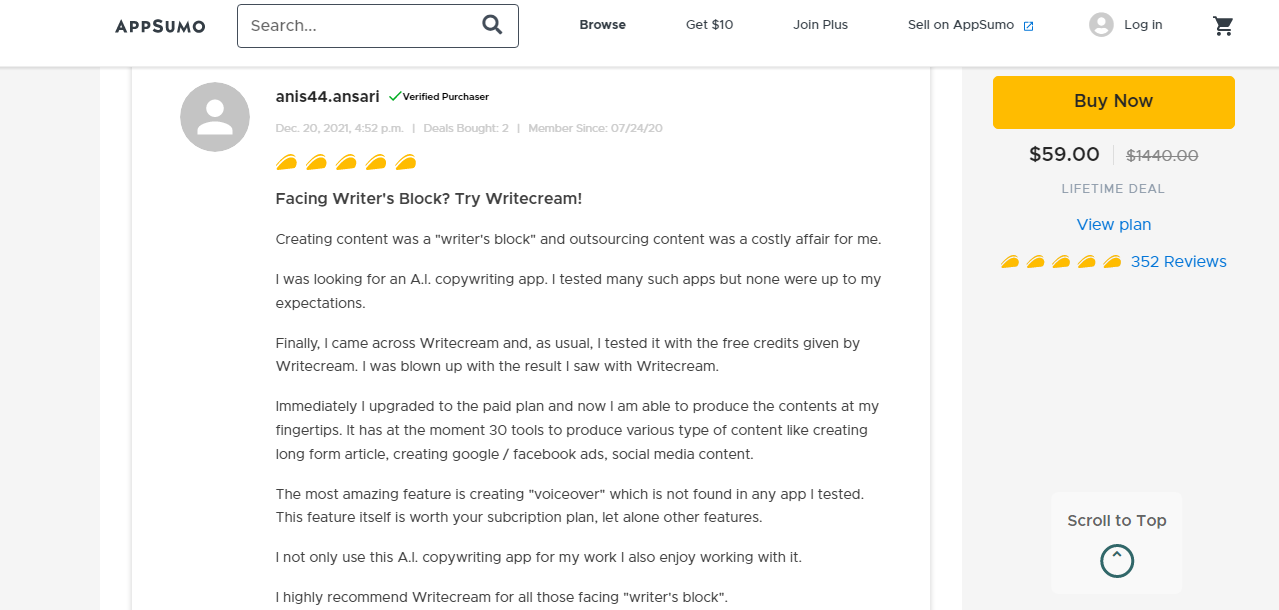 Both the tools are very popular among users and have received amazing reviews on different websites. This clearly indicates the utility and efficiency of these AI-powered platforms.
However, almost all the appraisals are in favour of Writecream. The users particularly like the Cold Outreach and other personalization tools. They say that it helps them to stand out from the crowd. 
The quality and the time-saving quality of the Writecream tool have been highly praised by the users. The only thing that we can consider as the downside according to the reviews is the credit system but the users are satisfied with the main function. Some users also criticize the font color or style, but that is more of a personal choice, it does not affect the main function of the tool. The personalization tools and cold outreach text generator pass with flying colors according to the reviews.  Writecream is a very unique tool offering some newfound technologies using Machine Learning and AI, its reviews are proof that it will soon become the new ruler in the professional world.
Pricing:
1. Pricing Plans of Peppertype.ai:
Peppertype.ai offers a number of plans for its varied customers.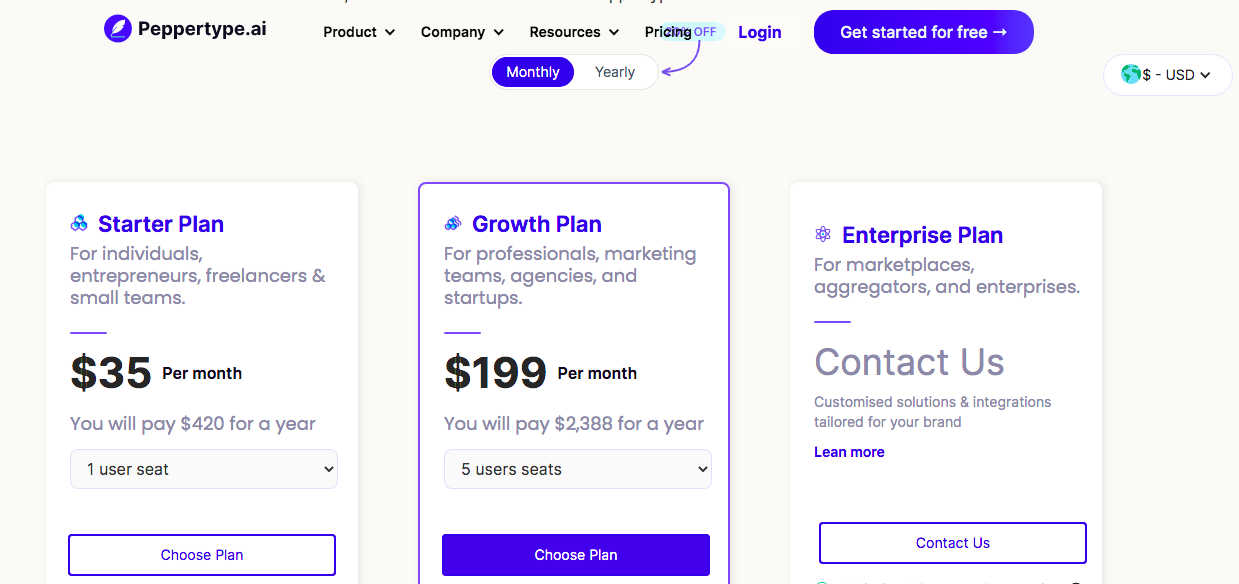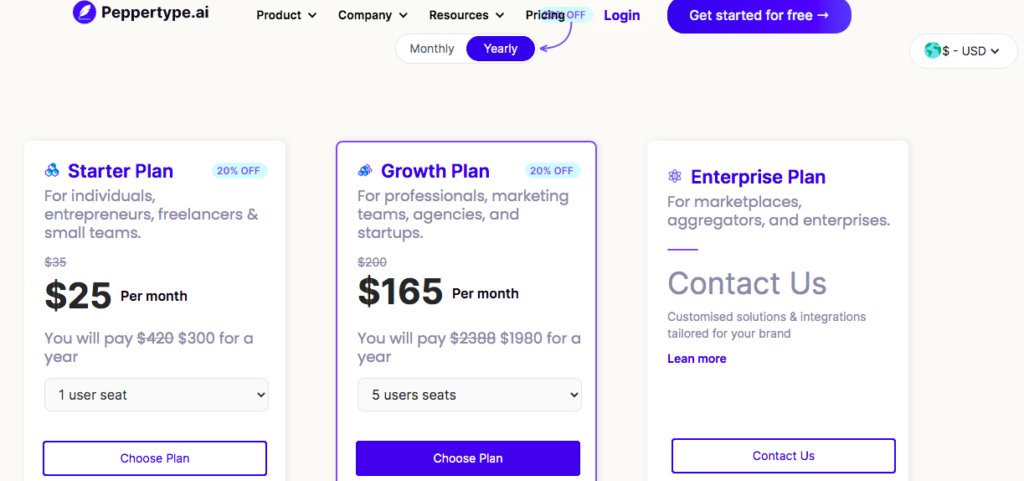 Free Plan: Peppertype.ai offers its users a

free plan

where a user can generate 10000 words. But sometimes business needs are not met because of these constraints and therefore a user can upgrade to a premium plan for unlimited usage.

Starter Plan: Under this plan, Peppertype.ai offers access to 20+ content types and early access to new use cases. It also upgrades the limit to 50000 words. It also entertains custom content type requests. The Starter Plan costs $35/ month and $420/year. It offers a 20% discount on the yearly plan and is most suitable for individual entrepreneurs, small teams and freelancers

.

Growth Plan: This is usually suitable for professionals, marketing agencies, marketing teams and startups. This costs $199/month and $2388/ year. It also offers a 20% discount on its yearly plan. This plan offers the facility to add 5 users. Each user has access to all features of Peppertype.ai including the one's offered in the  starter plan. It offers a 50000 word limit per user and has the option to add team members. Apart from this a user can collaborate, share and download their results. 
Enterprise Plan: This plan is most suitable for marketplaces, aggregates and enterprises. It offers

unlimited content generation facility

. Apart from this, it also has a customised AI model trained for the user. The enterprise plan offers content generation features at a large scale with human quality check, exclusive check on grammar and plagiarism and custom widget integration. The pricing under this plan is not available on the website. A user can negotiate by personally contacting the Peppertype.ai support team. 
2. Pricing Plans of Writecream:
Writecream offers a number of plans to its users. These plans have been meticulously made keeping in mind the interests and requirements of varied users.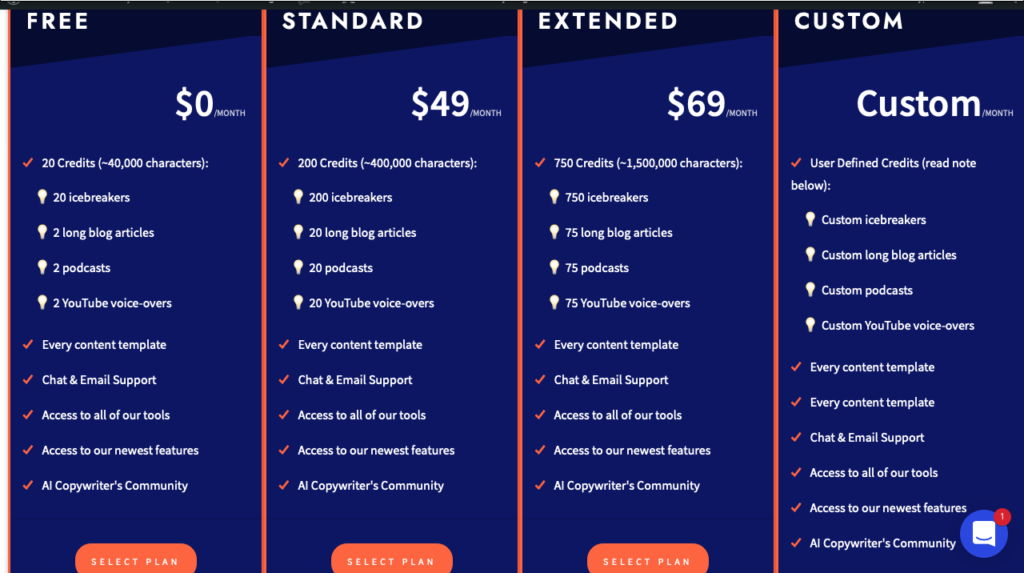 Free Plan: Writecream offers all its features in the free plan with 20 credits and 40,000 characters.

It also provides access to its newest features and chat and email support for queries.

Standard Plan: This plan costs $49/month

and provides

200 credits and a limit of 400,000 characters

. It also provides access to the AI Copywriter community and upgrades the number of outputs generated to 20 for image icebreakers, long-form articles, podcasts, etc.

Extended Plan: This plan offers 750 credits

along with a

limit of 1,500,000 characters. It also upgrades the outputs generated from 200 to 750 image icebreakers, 75 blog articles, and podcasts, etc. It also includes all features of previous plans including the chat and email support and access to the AI Copy writer's community. This plan is most suitable for marketing agencies whose business forms a major portion of content and email marketing. It costs just $69/ month.

It provides unlimited access to all of the tools at Writecream and also offers live chat and email support.

Custom Plan: Under this plan, users can define their requirements and Writecream accordingly prepares a custom pricing plan. This is

suitable for business professionals, marketing agencies, and digital marketers. It offers user-defined credits and upgrades the limit of output generated be it,  long blog articles, podcasts, and YouTube voiceovers. This plan costs according to the users requirements

. 
People who do not run businesses and need AI tools to generate articles or any voice overs or podcasts for their school work can use the website as an open-source platform for their needs. The credit system of Writecream offers more options and the limits are not as constrained as compared to Peppertype.ai. Also, we can clearly see the cost difference between both the tools. Writecream is much more cost-effective. 
Writecream offers credits for podcasts, voiceovers, Ice-breakers, Long-form editor, all in one subscription and this comes at a very cost-effective price and we are sure you will love Writecream for every penny you spent on it.
Tutorials for Reference:
Both Peppertype.ai and Writecream have provided tutorials so that the users can get acquainted with the features and use cases. This helps users to save time that would have spent exploring the tools themselves!
1. Tutorials on Peppertype.ai:
Peppertype.ai has guides in its 'Resources' section which explains the usage of various use cases.  Visit Peppertype.ai's website and find the 'Resources' Section on the top. Check the table of contents and you can find the guide on "How to use Peppertype.ai". But this section does not give details on how to use a particular tool. 
Apart from that, you can visit their YouTube channel where some tutorials for using particular tools are published. 
2. Tutorials on Writecream:
To find the tutorials, visit the website and find the 'Tutorials' Section on the top rightmost corner. It directly takes you to the YouTube channel where the tutorials are published. Apart from tutorials, Writecream also has a blog section that shares blog articles regarding specific tools!
The Customer Support provided by Writecream is available 24×7 and it is very impressive. You can use ChatBot on their website and report any grievances or any problems you are facing. Writecream customer support usually takes a few minutes to get back to you with a solution.
Some tutorials for its flagship features like Cold Emails, Backlink outreach, and LinkedIn Inmails are also present on the homepage.

Future Outlook:
Roadmap for Peppertype.ai:
Peppertype.ai is working to introduce more features and tools to ease the numerous writing problems! However, their future outlook page is not currently live. They have not mentioned their future plans as of now but it is expected that their plans will be announced soon on their website. 
Some of the features recently launched are:
More streamlined and organized dashboard. 

Better outputs for Twitter threads and unique Twitter ideas. 

Partner Program which is offering access to top-notch resources and features and a 40% recurring commission to make users promote its products!
Roadmap for Writecream:
Writecream is working diligently to improve its platform and solve the diverse problems of its users. It also has a section where users can put feature requests and share their feedback on existing features. The image above shows some of the features that are planned or lined up to be launched soon and some are under consideration. There's not an iota of doubt that Writecream is soon going to dominate the content marketing world!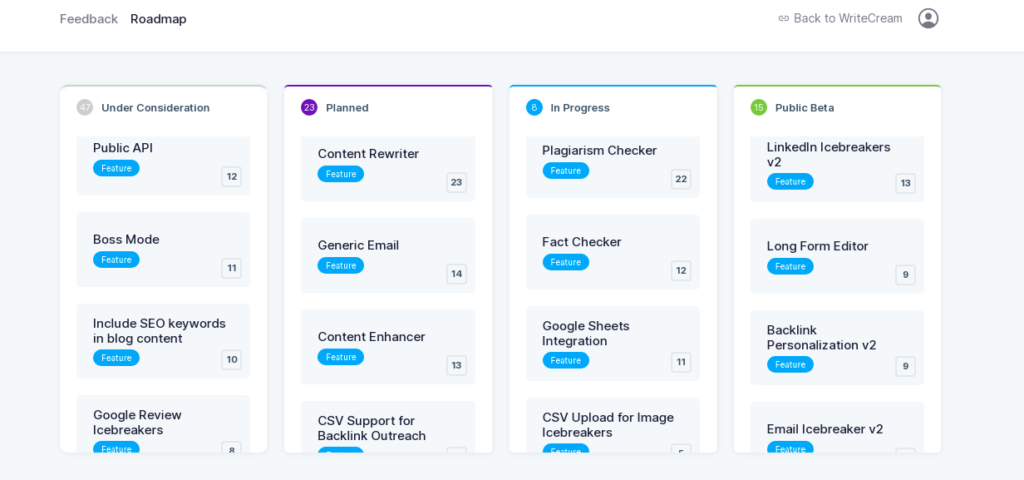 Which one is best for you?
Both the tools have their pros and cons.  But the one which proves to give more utility and increase your productivity and therefore sales is the one you should go for!
Writecream is a 'one of a kind' tool for content marketing. It is easy to use, and the AI makes it possible to generate content on demand. The AI is constantly learning and becoming more sophisticated with each piece of content it writes, making it a powerful tool for marketers who are always looking for ways to improve their content. The pricing is great for all budgets and there's no credit card required. The writing is of high quality and plagiarism-free.
This tool has proved to be a lifesaver for marketers who are always on the go and need to write blog posts, articles, and content for other channels. The AI technology takes care of the repetitive tasks of writing and making sure the content is consistent, while the writer focuses on what the content should be about.
It tops in the domains of personalization and generation of ice-breakers, podcasts, voiceovers, SEO, creating ad copies for various inbound marketing campaigns, etc. Even the Long-Form editor that Writecream offers to generate blog articles produces better output as compared to the one featured by Peppertype.ai.
The best thing about Writecream is that even being a new player in the market it is offering some unique features like personalized image icebreakers, audio icebreakers and the voice-over tool! These features are not available even with the old players and that's what makes Writecream superior to its competitors!
Peppertype.ai also has some amazing features but the cost effectiveness and output quality are what gives Writecream an edge over Peppertype.ai ! WriteCream is focused on personalized content and an fulfilling personalized experience!
Conclusion:
Writecream and Peppertype.ai are two different tools that are used to create content. They both have different features, strengths, and weaknesses. In order to compare the two and choose for ourselves, we need to look at their strengths and weaknesses. 
The strengths of Writecream are that it has a wide range of styles and that it has a lot of features. Also, Writecream's cost efficient plans and the diverse set of features offered even under its free plan give it a competitive edge over Peppertype.ai.  Also Writecream's user interface is far better than Peppertype.ai!
When it comes to output quality, Writecream is top-of-the-line. Also, it has been a huge hit with the digital publishing community. It is a new tool and users are already loving it! It understands the user and creates content that is suitable to their brand and their niche. Each piece of content created by Writecream is personalized and apt for marketing campaigns. The content generated through the AI servers of Writecream makes your brand stand out from the crowd and that too, flawlessly!
So give it a try and check it out yourself here!
Let us know your thoughts in the comment section below!