There is a never-ending demand for written content in the present world. With each passing day, we have to send emails, update our websites, add new blog posts or create a new sales page. What we often forget is that our creative instincts have certain boundaries. We can't come up with a new piece of content every morning we wake up. 
This problem of being 'mentally clogged' is often regarded as writer's block. There is no writer in this world who hasn't suffered from it at least once in his life. Owing to this, writers like you search for copywriting formulas to enhance their writing capacity. 
Copywriting formulas are indeed one of the most convenient methods to cultivate more ideas and learn about better ways to write engaging content that provides value to the users. Copywriting formulas have the power to shape your writing motives into sentences that exceed your creative boundaries. 
There are numerous copywriting formulas circulating throughout the Internet. One of the most widely used ones is Before-After-Bridge. This formula has evolved a lot since its inception. To describe it in a nutshell, you can say this formula is about highlighting the user's problems and then suggesting a way to extricate them from that problem. 
Under this formula, you describe a world where the pain points of your users exist and then go on to describe an alternate world where the problem doesn't exist. This piques your user's interest to learn more about how they can get to that world. That's where you create a bridge between the two worlds by proposing a solution. 
💡 Generate personalized emails, blog articles, product descriptions, and ads in seconds using the power of A.I
The copywriting formula seems pretty amazing, doesn't it? But where can you get the ideas for writing that before-after content? Don't worry! I have got an amazing tool for you. It is Writecream's 'Before-After Bridge Copywriting' Tool. It is one of its many AI-Powered tools that can kick start your BAB(before-after bridge) strategy. 
Let's learn how to use it!
Firstly, go to the official site of Writecream and sign up for a free account. After you have created an account, you will land upon the main dashboard, which has a plethora of tools.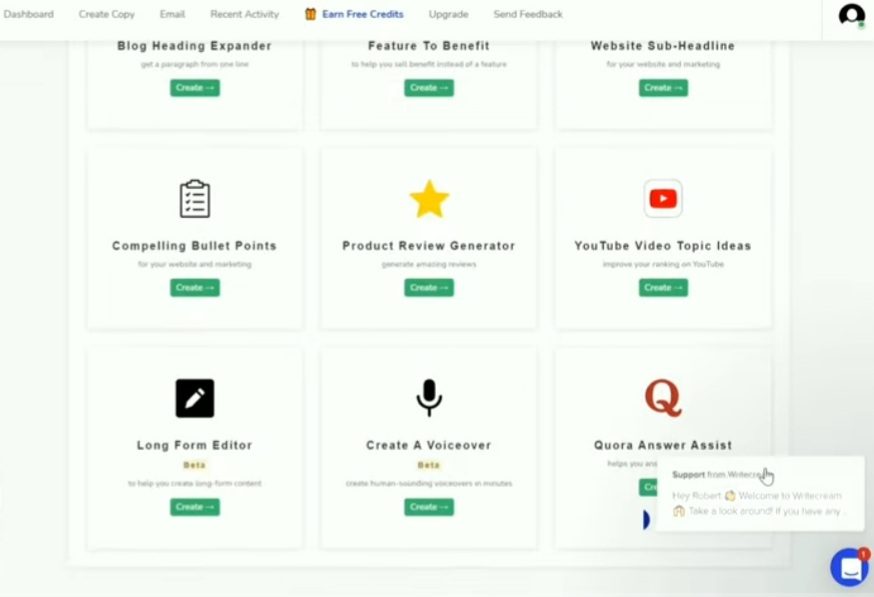 From there, scroll down and click on 'Before-After Bridge Copywriting'. On clicking, you will land on a page where you need to enter your product or brand name. You will also have to give a brief description that includes the main key points or features of your product/brand.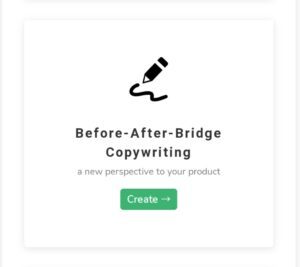 Once you have filled in all the details, click on 'Generate', and your job is done! 
The tool generates different before-after bridge ideas for you to elaborate on. 
I tried it myself by listing my product as 'Daikin's Air Conditioners, and here are a few results I got: 
Before: ACs are expensive and are not eco-friendly.
After: Now, what if we told you that there is a new AC on the market that is eco-friendly and also affordable?
Bridge: Introducing Daikin's Air Conditioner – an AC that is eco-friendly and also affordable.
Here's one more:
Before: It is hard to maintain the temperature of the room in a smart way.
After: What if we told you that there is an air conditioner that can regulate the temperature automatically and consume less electricity.
Bridge: Meet Daikin's Air Conditioner, an automatic air conditioner that can help you maintain the temperature of the room with ease.
That was about BAB but is that the only copywriting formula effective these days? No! There's another highly popular formula called 'Pain Agitate Solve'. Let's see how that works.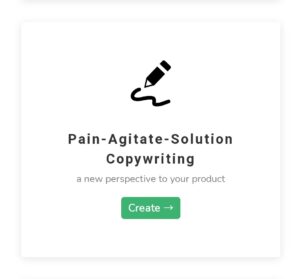 The task here is to highlight the pain of your readers. It's more like hitting where it hurts the most. When readers feel that you are addressing the problems they are currently facing, it motivates them to continue with whatever piece of content you are offering them. 
Next, you focus on the agitation that the problems are causing to your readers. You need to stir up your reader's mind and talk about how the problem is affecting your reader's life. It is more about connecting emotionally with your reader.
After connecting with your reader at a more personal level, your task is to propose a solution. By doing that, you are giving them what they were looking for. 
As I had stated earlier, Writecream has another tool to assist you in writing the perfect PAS(pain-agitate-solve) content. 
Follow the same steps mentioned above, but unlike what you did in BAB, you need to click on 'Pain Agitate Solve' to get ahead. 
After clicking on it, enter your brand or product name and give relevant details about it. Once done, click on 'Generate'. There you go! The tool generates a number of outputs to choose from. 
I used the same tool as I did before with Before After Bridge, and here are the results I got: 
Pain: Your AC is old, and it doesn't work well.
Agitate: It's too hot in your room, and you're tired of suffering.
Solution: Daikin is the most reliable brand of ACs in the market. The Air Conditioner has a built-in thermostat, which regulates the temperatures automatically, and a swing mode to provide equal conditioning in all areas of a room.
It was that easy! Just a few clicks is all you need. It means no more staring at blank word documents brooding for hours. You can easily get all the help you need at Writecream. Do try it out!