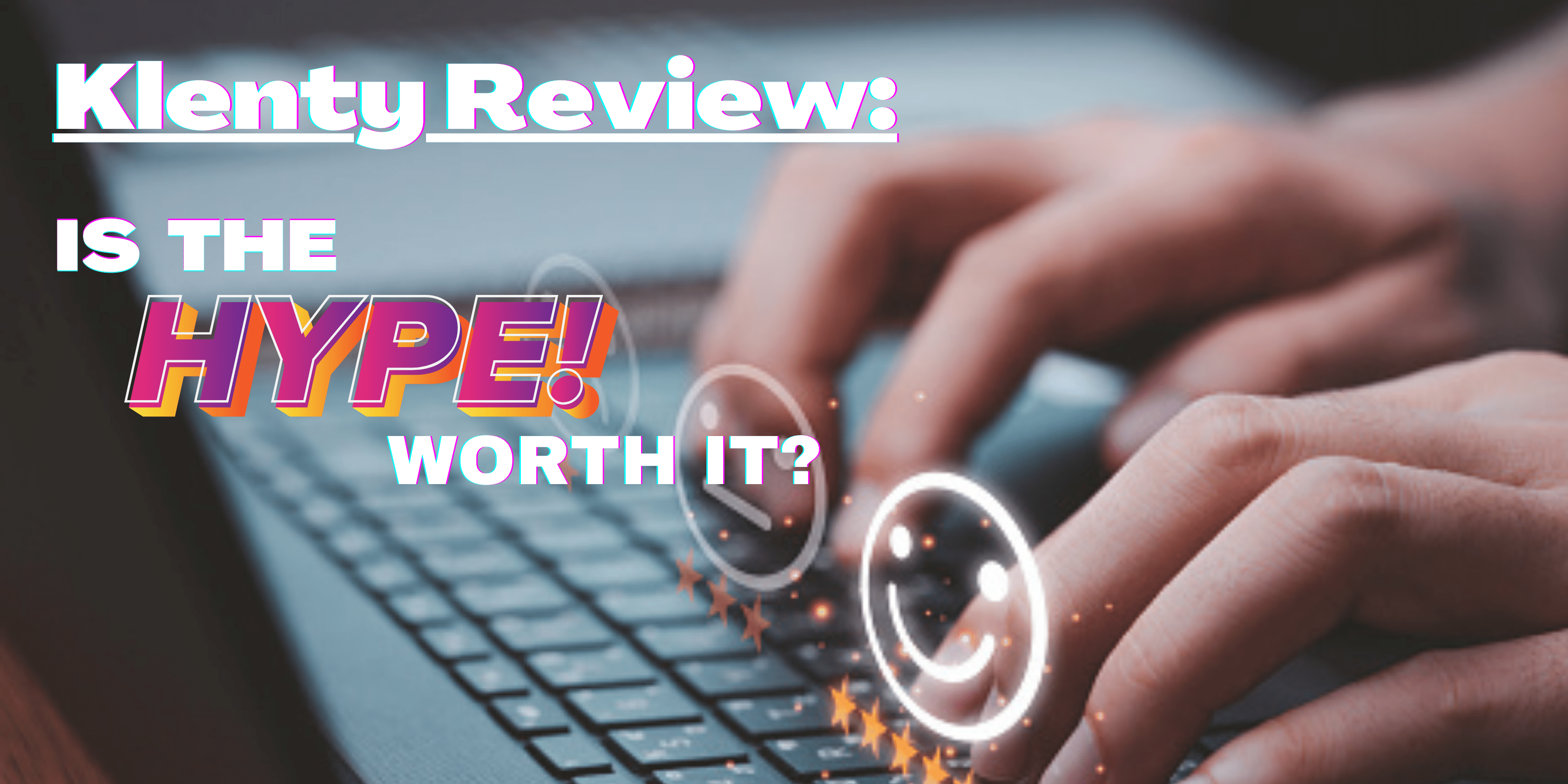 Email outreach is usually a big aspect of any successful marketing campaign. It is, nevertheless, the component that takes the greatest time and works to complete. Klenty provides a platform that totally automates the process of writing and delivering outreach emails in order to boost productivity.
Our Klenty review will help you determine whether the product is fit for your company. We'll look over the software's features, and pricing options to see if it caters to your business needs.
What is Klenty?
Klenty is a sales automation software system designed exclusively for sales teams. This software automates the process of sending personalized emails and follow-ups on a large scale emails. Sales teams typically progress slowly because they must devote a significant amount of time to developing new strategies. The difficulty is that they never know which ones will work, so they have to go through a long process of trial and error to figure out what works. This is why having a software solution to aid your sales efforts is critical.
Klenty analyses your prospects' email responses using multiple optimization methods, including NLP (natural language processing), and then sends them a personalized message that's targeted to them. It keeps track of your email discussions using specified criteria and determines the appropriate response to each one. As a result, you maximize your prospects' buying journeys while also resolving your sales issues. You gain traction with your marketing, conversion, and sales activities, increasing sales and profitability without resorting to expensive and slow traditional lead management methods.
💡 Generate personalized emails, blog articles, product descriptions, and ads in seconds using the power of A.I
Key Features
Management of Prospects
When you sign up for the Klenty platform, the first feature you'll see is prospect management. This one will help you keep track of each prospect so you can be more organized and know where they are in their path.
This feature shows the following options:
Dashboards – Including dashboards in this feature is beneficial since it helps you to see how each prospect is progressing.
Collision detection – Collision detection was added to avoid the possibility of many reps contacting the same prospect at the same time.
Duplicate detection – This feature will do exactly what it says: it will detect any duplicate prospects in the system.
Moreover, for each of your prospects, you may add an endless amount of custom tags and fields. Importing and exporting prospects should be simple as well.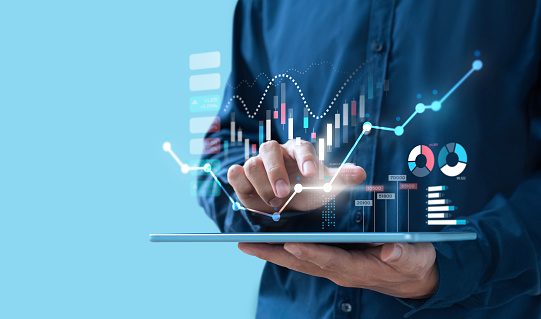 Email Campaign
Email campaigns are one of the most critical aspects of sales. If you've ever done mass outreach initiatives, you know how difficult they can be, especially if you did them before automation tools were available.
If you don't have a software solution that automates email sending, it's one of the most time-consuming tasks. You'll waste both time and money if you don't implement this method in your company. Klenty has an email automation tool that will make your life a whole lot easier. This functionality can be tailored to your preferences.
You may also use the reply detection feature, which will end your campaign whenever you receive feedback from your prospect. Once they respond, there's no use in pestering them with generic promotional emails—this is where your sales team should take over.
Klenty will help you to keep track of the following:
Bounces
Out-of-office replies
Auto-replies
Click to Call feature
You call up your prospects within Klenty whenever you feel the need to do so.  This feature is quite convenient and eliminates the need to use several platforms.
You can also buy phone numbers from Klenty and allocate them to users directly. Because localising your calls will make you appear more professional, the platform allows you to choose phone numbers from a variety of areas and nations. Once you've started calling, you might want to record and save your calls. This software will make it simple for you to carry out both of these tasks also.
CRM Integrations
Any software solution would be incomplete without integrations. As a result, Klenty's software has been integrated with the following CRM platforms:
Pipedrive
Zoho
Freshsales
Salesforce
HubSpot
All of the customer relationship management solutions on this list will allow you to:
Import contacts to Klenty
Export people from Klenty as leads
Sync emails
Use triggers to set up tasks
These integrations are crucial because they keep all of your information up to date while requiring no action on your part. The platforms will handle the entire process, which will save you a lot of time and stress.
Gmail Plugin
Klenty will support your decision if you prefer to use Gmail. You can schedule emails, trigger reminders and smart follow-ups, modify emails and signatures, and much more with its Gmail plugin. Klenty allows you to import your templates and signatures, which lets you be more creative and avoid writing the same emails over and over.
Klenty will help you trace any email you send as soon as you send it. This is a fantastic choice for determining how effectively your campaign is performing. After you've collected the data, you may examine the outcomes and fine-tune your campaigns for the best results. All of these features are really beneficial for email campaigns. Having everything you need in one location will make your life easier and your campaigns' overall efficacy will improve.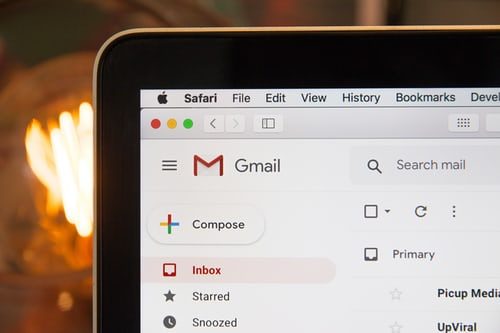 Klenty Analytics 
You must pay attention to data-driven analytics if you want your email marketing campaign to succeed. People must access analytics through third-party systems, but Klenty eliminates this time-consuming process.
Filters, dashboards, and stop/pause options are all available on the platform for viewing data-driven insights. This will be quite beneficial to your company because it will allow you to measure the overall performance of your marketing. Another great feature of Klenty is that it supports A/B testing, which aids in determining what works and what doesn't.
Pricing of Klenty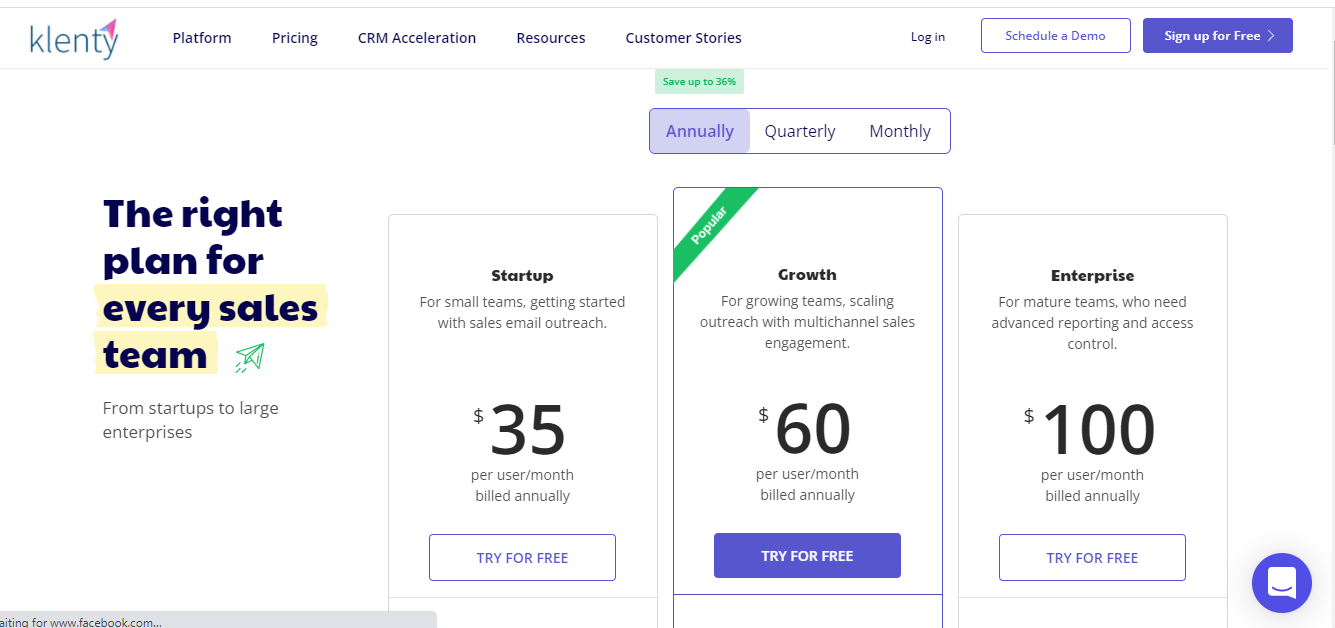 Startup, Growth, and Enterprise are the three plans offered by Klenty. Let's take a look at the features it offers.
Email cadences, Gmail plugin, Mail Merge, API integrations, and many other tools are included in the Startup plan, which costs $35 per user per month.
At $60 per user every month, the Growth Plan gives companies with cadence playbooks, multichannel outreach, hot prospects, and other resources to help firms develop.
The Enterprise plan, which costs $100 per month per user, includes everything in the other two options plus a lot more. The company provides 14-day free trials (and a money-back guarantee.)
Klenty Reviews
1.      Capterra
Klenty has a 4.8 star rating on Capterra based on 31 user ratings. The following is a breakdown of the reviews:
Overall rating: 4.8/5
Ease of use: 4.7/5
Customer service: 5/5
The positive reviews praise the easy to use interface and scheduling of bulk mails feature. The negative reviews stated that the interval between every email making it limited and a few of the reviewers highlighted some minor bugs and glitches in the UI.
G2.com
On G2.com, Klenty has a 4.5-star rating based on 158 reviews. The Klenty User Ratings are divided into the following categories:
Ease of Use: 8.7
Support Quality: 9.3
Ease of Setup: 8.4
The positive user reviews have praised the ease of use, and superior quality automated cold email campaigns. The customer support quality was like by 90% users and users claimed htat they saved a lot of time using Klenty tools. The negative reviews included lack of option to import lists from the CRM or Google sheets and the high pricing if you wish to use with multiple domains. Also many users faced confusion in the beginning as there were no videos or tutorials to guide them about surfing through Klenty.
Alternatives
Despite the fact that Klenty is one of the most popular email outreach tools on the market, there are a few other options that are worth considering and on some aspects outdo Klenty. WriteCream, Mailshake, and Pitchbox are some of the other tools available. Among the alternatives, WriteCream stands out with its wide range of features and languages that it can work with, along with the superior quality personalized emails.  Before selecting the ideal alternative, make sure you thoroughly explore all of your other options. After all, with more options, you're more likely to find the right fit for your company.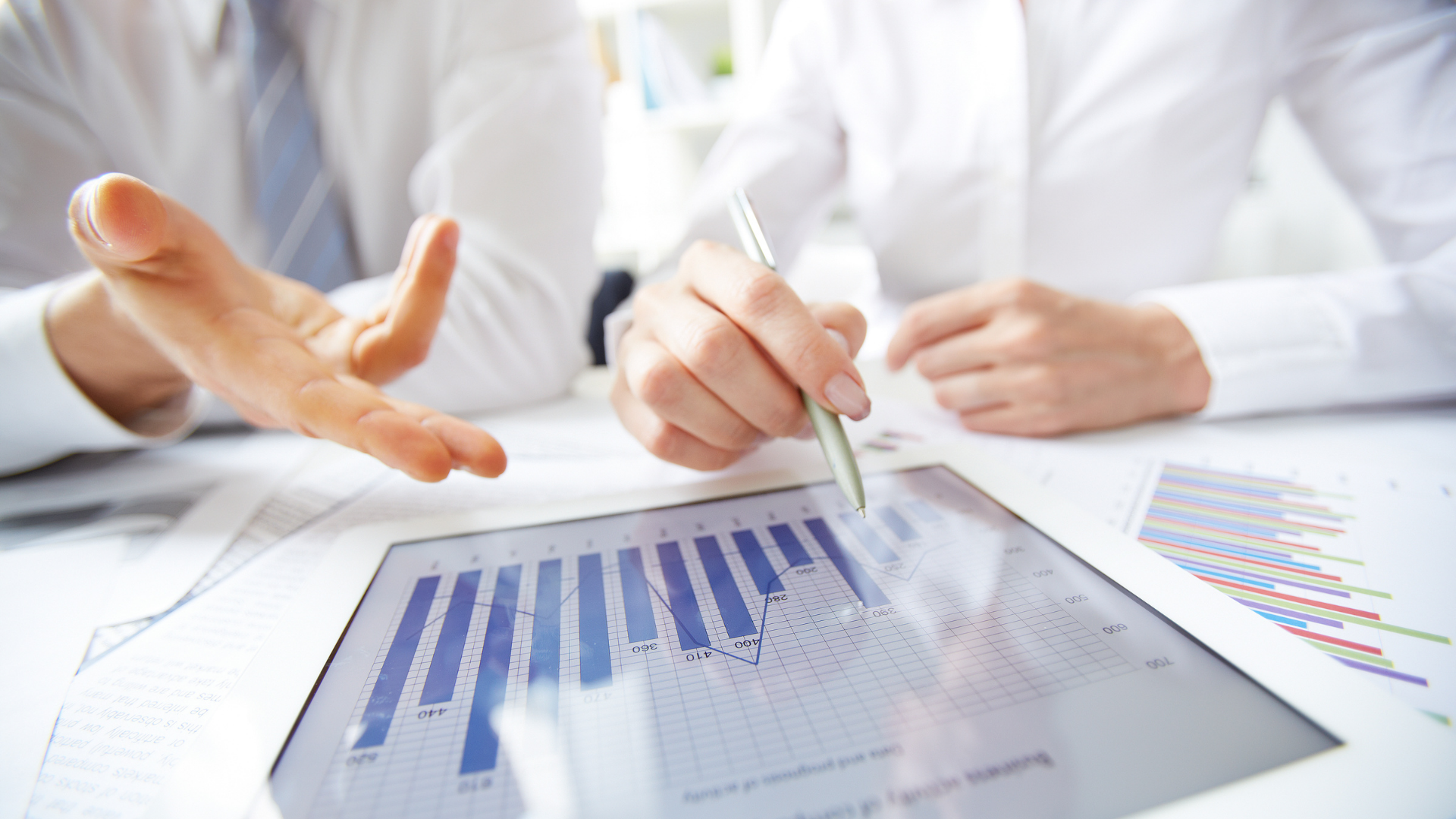 Conclusion
One size doesn't fit all and therefore it doesn't necessarily mean that Klenty will cater to all your needs, moreover the pricing of Klenty can be too much for some businesses. Many companies prefer Klenty based on the fact that this software addresses some of the most pressing sales concerns, making it an ideal tool to have on hand.  Klenty is really simple to use, which is one of the most significant aspects of software.   Overall, Klenty will save you a lot of time and money. These are the most important factors in business, and you should seek out any solution that will assist you improve them.