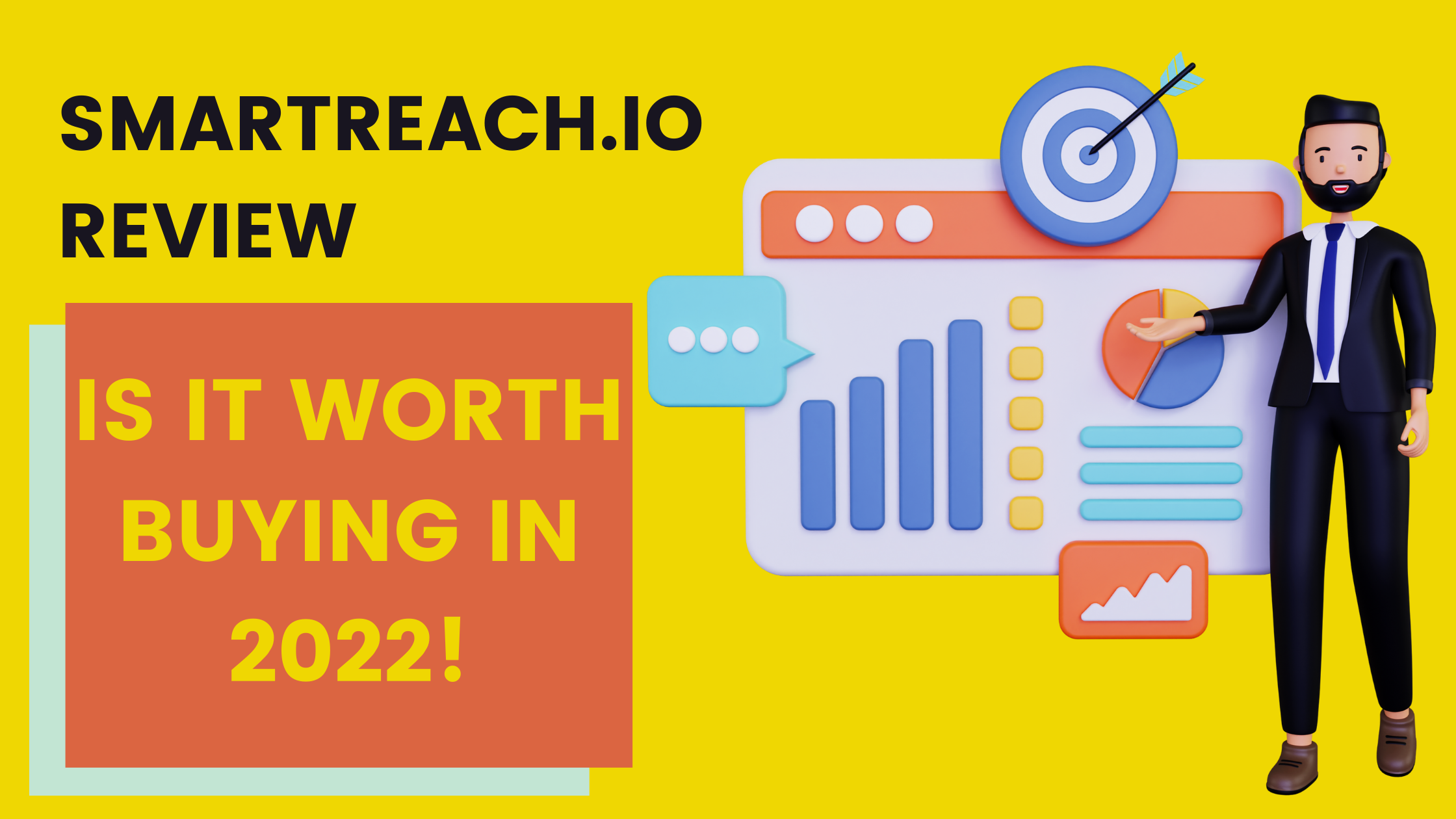 Growth teams are some of the fastest-growing departments these days. It takes a lot of hard work and hustle to build an effective growth team successfully. What's more, these days, growth teams are mostly digital teams.

Being able to host the right growth team meeting without too much hassle sets a good team apart from a great team.

Smartreach.io is an email software that helps marketers with the process of reaching their audience through email marketing. It offers three key features: email automation and segmentation, email campaigns, and content marketing.

This software works like all other cold email marketing tools available on the market. One can import prospects, assign tags, and add sequences for certain conditions (e.g., follow-up emails sent after two days if the email has not received a reply).

The SmartReach.io system allows you to build a list, create a funnel and send emails with the system. The system uses smart automation to help you sell your product or service.

It also gives you a chance to find out if someone has opened your email and is thinking about your offer. This is a appreciable tool for those looking to sell a product or service. The CRM integrations are a advantage as well.

A marketing professional that utilizes a combination of email campaigns and CRM, then SmartReach.io will give all the features one needs to make their job easier.

Companies are validating leads frequently, and it's easy to forget that prospects are busy people with a lot going on. SmartReach.io helps you save time and get more good prospects.


Advantages of Smartreach.io


Send personalized emails and follow-ups.


In the age of information overload, it's good to have a tool to follow up with your prospects on behalf of your company. SmartReach.io allows an individual to take the lead in one of their prospect's lives and customise the follow-up with their prospect's focused industry, employer, city, etc.

If you are targeting a micro niche, you can create industry-specific follow-ups. One can also send personalised emails and follow-ups with a missed reminder, email, phone call, text, or social media.

SmartReach.io allows one to follow up in several ways to have plenty of options when it comes to reaching out to the respective prospects.

The goal of SmartReach is to increase the deliverability of the clients and open rates through the tool and feature usage.


Detailed Reporting — for easy and prompt decision-making.


The benefits of using the SmartReach.io CRM system are that it has many features to help you manage your customer relationships, including the ability to utilise powerful reporting features to provide you actionable insights into your progress anaylsuis and sales performance.

One can get reports on any number of metrics, including how many people are viewing and downloading your content, the top content, and even how many hours the content has been viewed. It is easy to see how useful this can be for a business owner.


Reach customers in their primary inboxes


While email marketing is a tried and tested sales tool, finding the right prospects can often be difficult. One can improve your sales process by automating your email campaigns.

With SmartReach.io, individuals can use the "primary inbox filters" to automatically qualify leads in their inboxes.

In addition, one can use the "time-to-target" feature to qualify prospects in two seconds. SmartReach.io also provides several free features that help qualify prospects to send targeted messages quickly.
💡 Generate personalized emails, blog articles, product descriptions, and ads in seconds using the power of A.I


Integrate with a variety of applications,


It can be tremendously difficult to keep track of all the data associated with your business. Sure, you have an Excel spreadsheet, but all of your data can't be stored in one place. It's also difficult to keep a clear, clean view of your data. SmartReach.io's service helps keep all of your data in one place while also making it easily accessible.

With this service, one could easily set up integrations for HubSpot, Salesforce, Pardot, Marketo, and more. It uses a powerful API that makes it easy to sync data between your applications.


Outline your company's goals


To stay on the path to success, you need to track the company's progress. It provides the ability to plan your goals, assign tasks to team members, and build a better team to reach your goals. By tracking one's sales goals with SmartReach.io, one will better know who needs to be assigned to which tasks.

SmartReach.io is a collaborative task management tool that helps the firm and the team reach the ultimate goals.

With this, one can outline the company's goals, assign tasks to team members, and build a better team. SmartReach.io allows you to turn your sales goals into reality by assigning tasks to the team and managing these tasks themselves.


Features

Ability to send and receive emails from different email providers
Unlimited email accounts integration
Ability to create unlimited campaigns and store an unlimited number of prospects
The ability to create any number of custom merge-tags to increase Personalization
Spam test reports to identify and solve deliverability issues
Consolidated inbox of all your email accounts and a 360-degree view of Prospects
Detailed analytics and downloadable reports
Host of different APIs & integrations
Advanced Team & Agency features (team of teams) with seamless switching between views.


Characteristics of Smartreach.io


Better Email Integration


SmartReach provides an intelligent way to track email content by helping you to create a system that helps you measure the value of communications via digital channels through email. For certain platforms other than email, you can integrate the platform into your digital CMS and this means that web visitors can get valuable content easily via their mobile devices or devices with limited data capabilities.

The tool will also give you the option to choose different email accounts for sending and receiving emails.

Set up Account-based sales campaigns to target multiple stakeholders in an enterprise at once using auto-pause and continue when anyone from the same account or sharing the same email domain comes back.


Personal Touch


There is a huge demand for Personalization in today's day and age.
In this day and age, people want to feel like they are a special individual and matter. Personalization is going to be crucial in any future or ongoing campaigns because it ensures that your audience understands you care about them and their needs.

With SmartReach, you can easily use the Dynamic Content feature which makes email templates dynamic, bringing added flexibility to your marketing campaign. For example, you can add contact forms and surveys to a single contact form template in order to make it possible for recipients to express their needs and preferences.

This is where you can insert some highly personalised content that will attract your prospects.


Reduces Cost, increases revenue.


SmartReach.io is the perfect tool for personalizing one's email outreach. The software enables users to automatically schedule and send emails from their mailbox so they can increase the chances of establishing a connection with their recipient within just a few seconds after they hit send.

The tool is designed with the perspective and motive to increase the sales team bandwidth to focus on prospects who have responded. This, in turn, increases revenue and reduces costs.


Popular Email Clients


SmartReach.io supports all favoured email clients, including GSuite, Office365, Outlook, Mailgun, and SendGrid.


Prospect Management at Ease


SmartReach.io's resourcing tool allows businesses to automatically route their prospecting emails to the right people – now there is finally a quick solution for speeding up the process and boosting sales.

One can group the prospects based on their responses or their activity on the emails for further actions within SmartReach.


Demerits


There are hardly any cons with SmartReach.io as it is highly customizable and fulfills all the essential needs of individuals. However, the native CRM integration with close.io and Copper CRM is not available with SmartReach, which initially causes minor problems.

It has a Zapier integration that would address this concern. A note to be taken that Smartreach.io does not provide any free plan to the customers. The trial pack is available but with a further subscription to a paid pack.


Light on Prices:


SmartReach.io offers trial/premium subscriptions with paid plans starting from $24.00/month. SmartReach.io doesn't offer any free plans but a trial that allows you to try the solution before opting for a paid subscription.

The Pro plan helps you with A/B testing and plenty of integrations, plus more. The Pro plan is scalable to grow with your team's needs from $39 per seat per month.

The Ultimate plan, which costs $59 per user per month, includes all campaign perks and the full suite of integrations, along with robust client support.


Better Reach.


Smartreach.io has a competitive pricing plan, which means it will be difficult to find a better price. It's a simple, easy-to-use interface, and the workflow is easy. It also has a really helpful tutorial that walks you through the basics.

It has set the bar for their pricing to be competitive for a SaaS company. They have determined that it will be the best option for their customers. Their pricing is determined through the Cost of the product, and the time it takes to do the work.

Their pricing ranges from $10-$100 per month. The pricing is mainly determined by the type of work that the company performs.

Pricing is important. For example, MailChimp has a free trial, so one can't get a feel of what an individual would be spending when purchasing the service. MailChimp also doesn't offer a range of services as Smartreach does, which can be a consideration.

However, Smartreach.io is a great option for those who love their tools and prefer a more specific tool. One of the standout features of Smartreach.io is its integration with other tools. It integrates with Slack, Google Drive, and Google Sheets.

This means that one can get more done and save time. It helps to build a connection with the requisite concerned audience by informing them about what you have to offer.


Customer's thoughts.


With Smartreach.io, one can easily do A/B testing and segment with the customers. One can also create a custom landing page for the customers with a simple drag-and-drop interface.

To make the switch, start by comparing the features offered by Smartreach.io with those of the current email marketing platform.

SmartReach is an easy to use platform that has been built for users of all experience levels, and it's also very rich in features. It serves SMBs admirably and is also a recommended solution for businesses looking to enhance their email marketing capabilities.


Start work State.


When a person selects the above settings, smartreach.io's algorithm works by sending five emails on the first day and increasing this number randomly to a slightly higher number on the following day. The system would continue to use this algorithm until the warm up period you've selected. The system would send out all emails that can be sent in a campaign on the last day of your warmup and it can continue to send out emails at the rate an individual has set after reaching their maximum preferences.

More than 70% of marketers say that personalised emails increase customer/ prospect engagement. Personalised emails deliver 4x higher transaction rates compared to non-personalized emails.

On average, 34% of prospects have expressed an interest in buying personalised products or services. Personalised calls to action convert 64% better than default calls to action.


Key Components


It doesn't blast emails in one go but rather sends one after the other with a time gap in between.
With Smart Pause, it tracks replies and pauses the emails if there is a reply from a prospect.
It gives detailed email analytics to help understand how the emails are being engaged.
It gives detailed email analytics to help understand how the emails are being engaged.
It helps automate many processes in your sales engagement with its powerful workflow automation.

It is a cloud-based CRM that helps automate a lot of processes in your sales engagement with its powerful workflow automation, depending on the size of your team.

SmartReach.io is a solution that facilitates gathering prospect information and efficiently connecting to them to reach out with the message.

This is done by automatically syncing with the HubSpot contact data. Whenever there is a new contact in HubSpot, the contact data is automatically synced with the Prospect data in SmartReach.io.

This CRM tool provides you with a range of features and functions. Provides a key component to the business by allowing the individuals to store, track and manage their contact data and campaigns in one place.
The tool allows people to store, track and manage their contacts and their contact information in one place. There are no restrictions on the number of campaigns and the number of prospects clients wish to store on the tool.

Smartreach.io is a complete campaign management tool suitable for any company, agency, or agency. Smartreach.io lets you manage your campaigns and prospects without any limitations.

With Smartreach.io, one can create and track up to 100 campaigns. Individuals can also create up to 500 prospects and track the progress of all of their current campaigns.
Once a client builds its website, it can also create unlimited landing pages to capture leads.


Conclusions:


It's no secret that email marketing is a powerful tool to help you grow your business. Email marketing automation is a powerful tool in the modern marketer's arsenal.

Wishing to make sure that people have the best chance at effective email marketing, so as a result, the creation of Smartreach.io would surely help perks at offices less burden their work with the help of the software.

With it, one can bypass the tedious email design process and focus more on creating content that will resonate with the audience and help create a wide customer reach to upscale the brand.

It offers a variety of features that make it easier to reach your audience, even if they are not on the first list! This software is a great option for marketers looking for an efficient way to reach their audience.

They hope that an individual's journey would be smooth via smartreachio because of its best provision of services and instant address to minor and major changes or complaints.

The easy-to-use interface would help customers easily get equipped with the working system at smartreach.io and enjoy its best services.