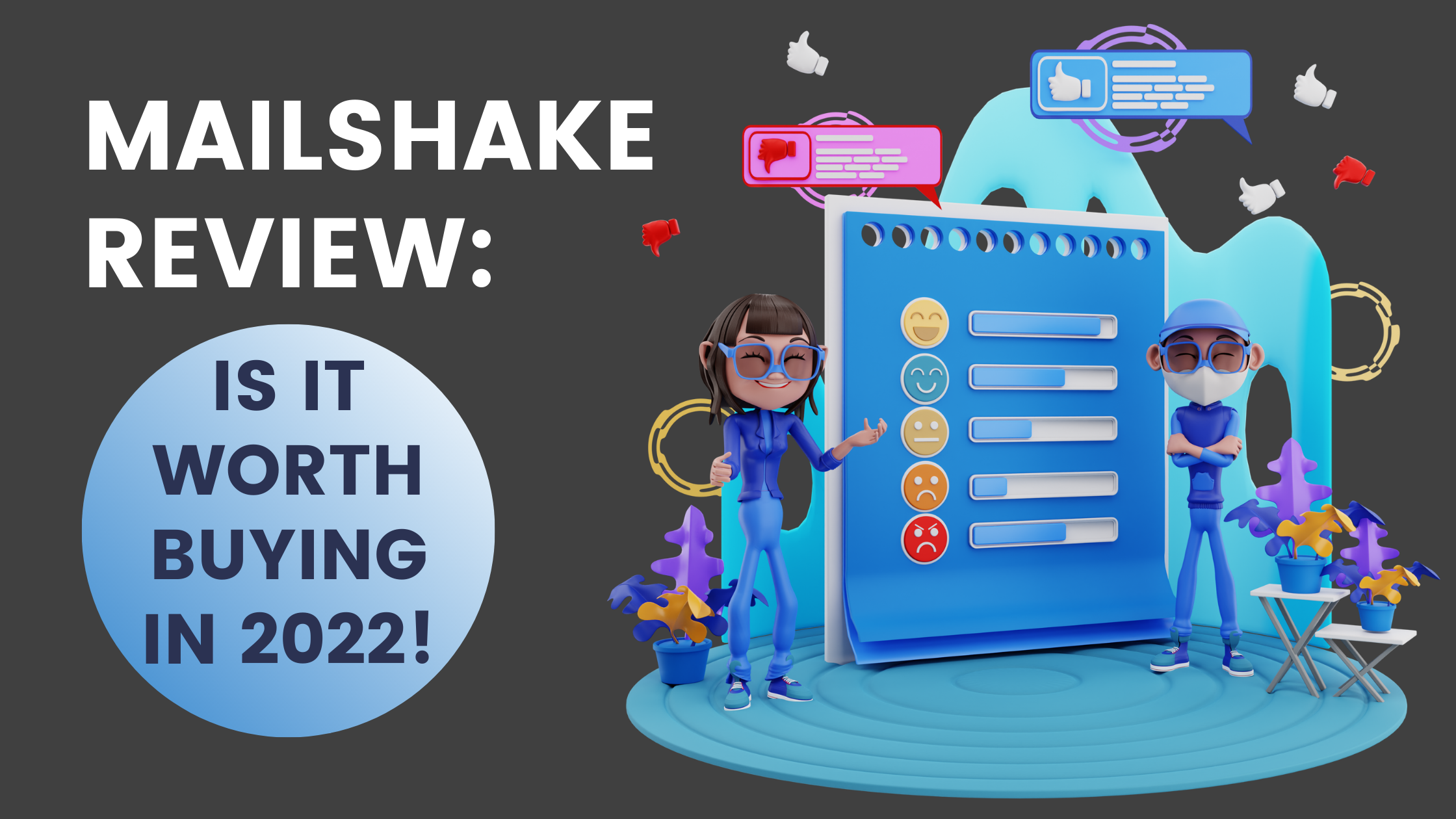 Mailshake is a well-known sales management platform. They have over 47,000 customers worldwide. While most people might think it's a cold email generator or an email automation tool, it provides more than just that. It allows sales and marketing teams to collaborate and create the best means to turn prospects into successful customers. A single dashboard provides multiple options and features to build new connections and create reach.
Features of Mailshake
Prospect Outreach:
Building prospect relations and reaching out to them to create a timely bond that will help successfully onboard them as long-term consumers are the main objective of salespeople and marketers and the most time-consuming process. Personalizing these attempts and making sure they are not spam is something that Mailshake takes care of for you.
Deliverability
Mailshake runs mass email outreach campaigns with ease no other platform does. It ensures full email automation that is all tool ease from A-Z. You can send about 10,000 emails per campaign, and it makes sure deliverability is done after certain time breaks to ensure your emails don't end up in the spam folder and make it into the inboxes for sure.
💡 Generate personalized emails, blog articles, product descriptions, and ads in seconds using the power of A.I
Integration
For any platform to succeed, it should have applicable integrations with other platforms to ensure ease in use. Integration also ensures that tools are used for their specific uses and the main platform for multi-dimensional perks. Mailshake has integrated with the following platform for the same.
Salesforce, Salesflare, Copper, AgileCRM, Pipedrive, Freshsales, WhatConverts, Nimble, Salesmate, Zoho, and Hubspot CRMs
All the great email platforms, including Outlook and Gmail
Calendly, Acuity Scheduling and Schedule Once to handle your schedule
Call Loop and Twilio if you prefer to utilize your voice call and text services
LinkedIn and Facebook for marketing and prospecting services.
Drift, Crisp, Slack, and LiveAgent for online chat messaging
Vidyard for video
Dialpad
Google Workspace
SMTP
Integrated connector
Automated follow-ups
Follow-ups are critical for any outreach campaign; they act as the turning point to successfully turning a prospect into a customer. Managing follow-ups is a tedious job as the number of recipients to respond to is big. Mailshake makes it easy to tackle this by providing automated follow-ups based on the context to follow up with. You can also set automatic follow-ups by specifying how long it has been since there has been no response from the lead, and Mailshake sends out a follow-up for the same.
Lead Management
Usually, a CRM is used for lead management. It tracks the progress of the sales task force. While Mailshake has already integrated CRMs like Salesforce, HubSpot, and Pipedrive, users can run complete outreach campaigns and update lead statuses by integrating the required CRM.
Mailshake Pricing
Mailshake offers per-user prices and a monthly and annual pricing model as well. It also allows users to add how many people they require onto their team to incorporate into their plans. Each plan comes with a money-back in 30 days guarantee.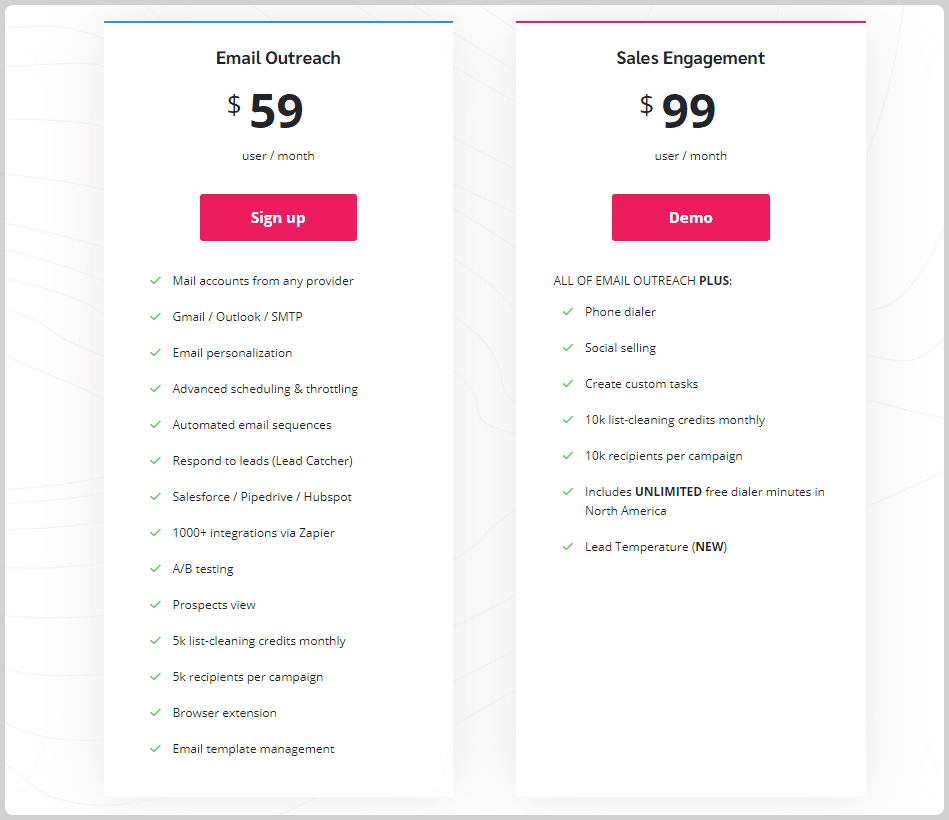 The Email outreach model is created for companies that are mainly looking at. It provides the email features like personalization and automated follow-ups. There are no phone calls or social reach extensions within this model.
The Sales Engagement model is more suited for sales teams that depend on emails and phone calls to create prospect connections. It offers all features in the email outreach model with a call integration to make calls in the US and Canada.
Pros and Cons of Mailshake
Pros:
Huge scale email deliverability and automated replies
Tested library of email scripts and for automation options
Integration with several major platforms for access and ease
Integrates emails as well as calls for social outreach
Minimalist platform easy to use and navigate
Offers support for on boarders and courses as tutorials
30-day money-back guarantee on plans
Cons:
No timezone compatibility
Cant make calls outside the US or Canada
No free trial or freemium plan
More expensive than other tools for outreach
No Google Sheets integration
Mailshake's Online ratings

G2 score
G2 is one of the leading online platforms where users rate, review, and recommend other software to integrate with their goals. The platform has got a 4.7/5 rating. Being on the higher end implies the efficiency of the platform.
Here are some reviews on the website,
"Excellent software. The even better team beyond it."
What do you like the most?
I love the user-friendliness of this platform. The dashboard is easy to read, the icons are easy to find, and there are multiple ways for us to customize our campaign for each email we send out.
What do you dislike?
I don't like it only when you have a winning split test. From my understanding, it is hard to set it as the winning one, although I know it is hard depending on where a lead is in the process-cycle. I'm hoping for some sort of result for this soon.
"Quick To Set Up Easy To Use"
What do you like best?
The ease of use when creating sequences and adding prospects to the system.
What do you dislike?
There is not a single thing I dislike about Mailshake.
Capterra reviews:
Capterra is another platform that allows users to rate and review software integration tools or SEO tools to help boost their engagement needs. On Capterra, Mailshake has a 4.7 rating and 92 reviews. This shows their success even amongst Capterra members.
Here is a review on Capterra :
Five months ago
Comments:
On top of the points mentioned above, their content and events are highly recommended. I've bookmarked several blog posts and regularly revisit them to improve my email campaigns.
Pros:
Start your own campaign today with just a few clicks. We offer special deals for first time users, and no credit card is necessary for the trial. I had a fantanstic experience with their sales executive, from scheduling a demo session to offering a limited period free trial to finalizing the plan. The tool is very much helpful and appealing to use – I loved the UI!
Cons:
Mailshake sales team has never given me any reason to complain about anything. Even though each of the outreach tools mentioned in their sales page is given a dedicated page, I'm not sure how Mailshake could compare with these outreach tools and what are the features which separate them from these outreach tools. It would be good if you can provide some comparison between Mailshake's features and that of other outreach tools and where it performs better than others?
With all these positive aspects to the platform, Mailshake is the right place to go for all your sales engagement and marketing needs. It's a favorite with strong third-party integrations and an easy-to-navigate interface that is also intuitive. To make full use of its robust features onboard onto Mailshake now!