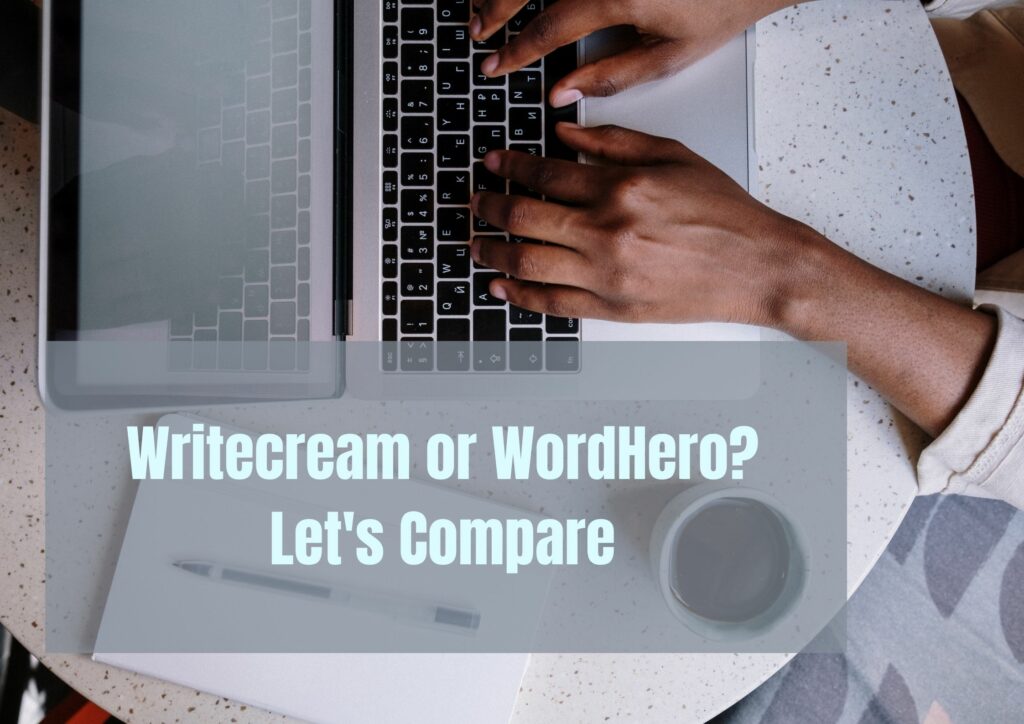 With the rise of AI-powered tools, copywriters are already seeing how it can help them do their jobs. The idea is to use machine learning to create content for you automatically. You input what kind of content you want, and it will come up with something on its own. This way, the tool will work around your schedule and never take away your creativity. With this scope of advancement comes a never-ending competition, which makes it difficult to choose between one tool. In that case, we will help you compare and understand two AI-powered tools, Writecream and WordHero.
WordHero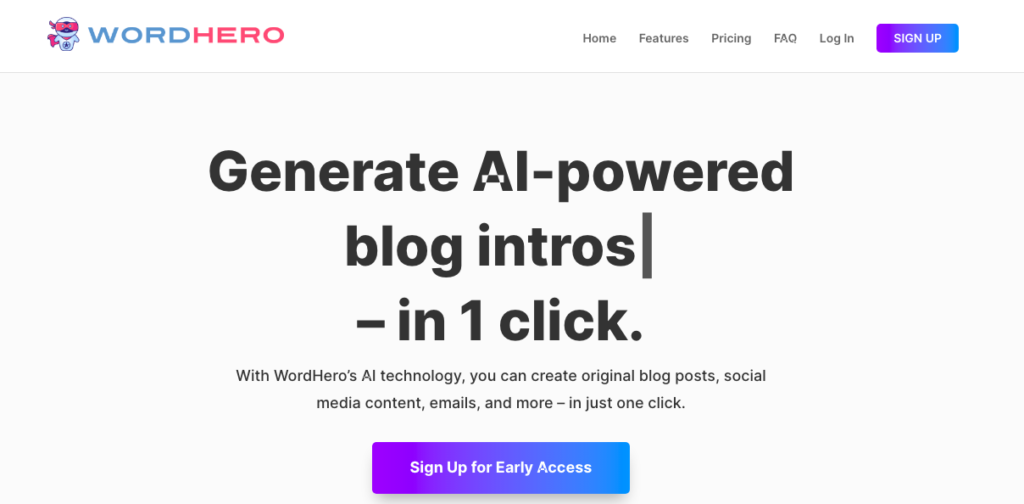 WordHero is an AI powered tool that helps in generating content for marketing agencies, business professionals and ecommerce websites. It helps in generating content for blogs, social media, websites, and eBooks. This content can be used for marketing, to enhance the quality of your content marketing, or to increase your audience. It gives you the power to create content that your audience wants to read.
List of features for WordHero
1. User interface:
The user interface of WordHero is very easy to manage. The main screen displays a number of use cases to choose from like Quora answers, Blog Ideas, Tweet Ideas, Website Headlines, Social Media Post Captions and Ad Copy, etc. A user can select any case and furnish details regarding his/her requirements and can start generating outputs in a nick of time!
2. Language Selection:
WordHero offers 10+ languages to its users. One can generate content not only for the target audience of one's own country but also the target audience of other countries.
💡 Generate personalized emails, blog articles, product descriptions, and ads in seconds using the power of A.I
3. 50+ Use Cases:
WordHero has 50+ use cases consolidated under one roof. It offers a diverse set of cases like Blog and Tweet Ideas, social media and website content, ad copies, poetry, song lyrics, product descriptions and much more. These tools help clients to generate content in multiple forms and styles.
4. Quality Content:
WordHero ensures that the content generated shows 0% plagiarism and is rich in quality. It can generate a long form blog with perfection in just minutes. It also offers extensive formatting options and makes sure that the content generated is grammatically accurate and of top-notch quality.
6. Manage Workspace:
With WordHero, a user can organize their content efficiently in the Activity section. It displays all the search outputs and one can navigate through it to refer to previous work.
Writecream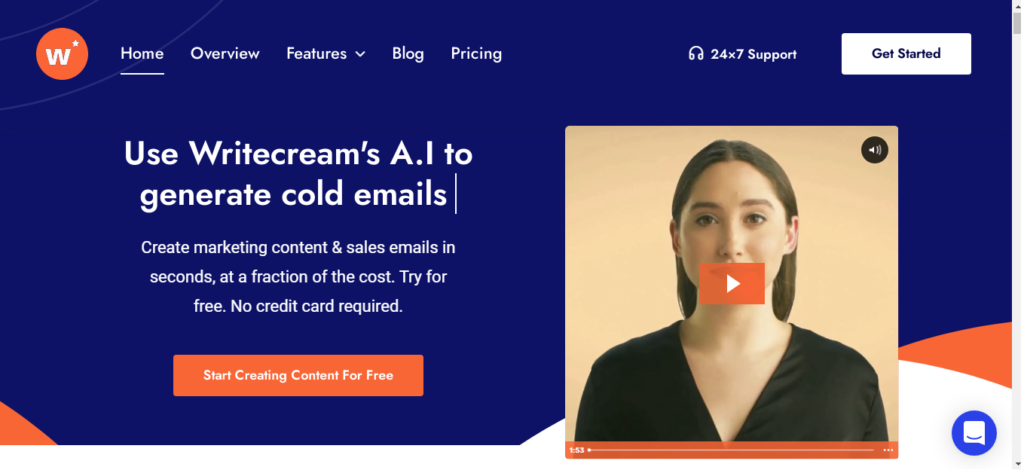 Writecream is an innovative AI-powered tool that caters to one's need to write a copy. It helps you make advertising material, sales emails, and online substance in a moment or two. With Writecream, you can make customized icebreakers that assist you with expanding your deals. You can foster an interesting presentation for your up-and-comers dependent on their work, instruction, and encounter and incorporate this presentation toward the start of your email or message.
List of features for Writecream
1. User Interface:
Writecream has a great user-interface. This tool is super convenient to use. Sign up for a free account at Writecream and your main dashboard appears. The dashboard displays all the use cases available and one can choose from this diverse set of options.
2. Diverse set of Use Cases:
Writecream offers at least 30+ use cases to its users which help clients generate content for cold emails, LinkedIn outreach, backlink campaigns, social media content, digital ad copies, articles and blogs and audio and video scripts, etc.
3. Personalized features:
Writecream offers a number of personalized features like Emails, image icebreakers, product reviewers, etc. These features are being used extensively by clients to boost their sales tremendously!
4. Language Selection:
Language is not a barrier for Writecream. Clients can create content in 75+ languages with the help of Writecream and choose from over the diverse set of languages for text, image and audio outputs.
5. 30+ Tones:
Writecream offers 30+ writing tones to its clients ranging from a casual to an assertive tone required for professional dealings.
6. Money-back Guarantee:
Writecream offers its users a no-questions-asked refund within 30 days of subscribing to any of the plans. A refund request can be sent on their live support channel or on email.
7. Plagiarism- Free Content:
Writecream generates content that is 100% plagiarism-free with top-notch quality and grammar usage. The AI-powered tool generates a unique piece of content every time you click on the generate button.
8. Workspace Management:
Writecream helps you keep your work organized and all in one place. It includes a feature where all your work history is managed and can be accessed anytime you want.
9. Live Chat and Support:
As soon as you enter Writecream's website, there's a live chat and support option at the bottom right corner of the website, and is available even if you aren't logged in.
10. AI Article Writer:
Generate long-form content like articles and video scripts in minutes. Writing a 1000+ word article takes less than 30 minutes with this amazing tool.
11. Facebook and Google ads:
Generate ad copies for Facebook and Google at the click of a button by just entering your company name and a short description and let Writecream's AI tool do the magic!
12. Social Media Content:
From ideas for social media posts to writing their content, you can do everything using the power of Writecream's Social Media Engine, powered by A.I
13. Cold Emails, LinkedIn InMails, Backlinks:
With these features, users can generate personalized introductions for cold outreach campaigns, including cold emails, LinkedIn InMails & connection requests, and backlinks.
14. Image and Audio Ice-breakers:
You can up your personalization game with image and human-sounding icebreakers designed specifically for your prospect.
15. YouTube Voice-over and Podcast-
Turn any blog article into a human-sounding podcast or voice-over for a YouTube video with 40+ voices available with multi-lingual support only on Writecream.
Output quality comparison for each tool
Many features collide in both of the tools. So now we will compare how both the tools help one write a blog and see which gives more fruitful results.
1. Blog Intro and Outputs
Blog Topic: How to Earn Money on Snapchat
WordHero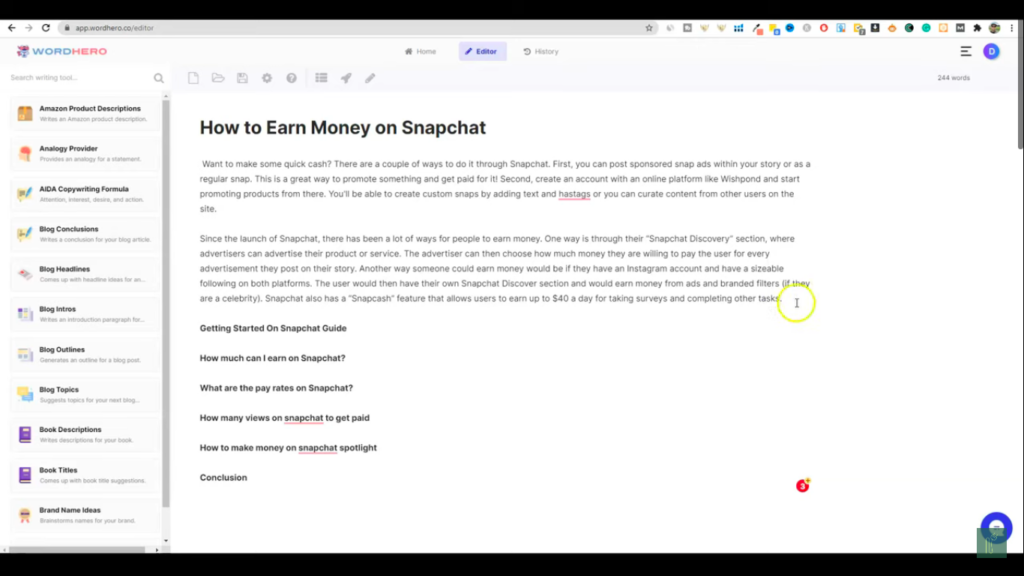 Output for Blog Intro:
Topic: How to Earn Money on Snapchat
Want to make some quick cash? There are a couple of ways to do it through Snapchat. First, you can post sponsored snap ads within your story or as a regular snap. This is a great way to promote something and get paid for it Second, create an account with an online platform like Wishpond and start promoting products from there. You'll be able to create custom snaps by adding text and hastags or you can curate content from other users on the site.
Since the launch of Snapchat, there has been a lot of ways for people to earn money. One way is through their "Snapchat Discovery" section, where advertisers can advertise their product or service. The advertiser can then choose how much money they are willing to pay the user for every advertisement they post on their story. Another way someone could earn money would be if they have an instagram account and have a sizeable following on both platforms. The user would then have their own Snapchat Discover section and would earn money from ads and branded filters of they are a celebrity Snapchat also has a "Shapcash feature that allows users to earn up to $40 a day for taking surveys and completing other tasks.
Output for Blog Outline:
Getting Started On Snapchat Guide
How much can I earn on Snapchat?
What are the pay rates on Snapchat?
How many views on snapchat to get paid
How to make money on snapchat spotlight
Conclusion
Writecream: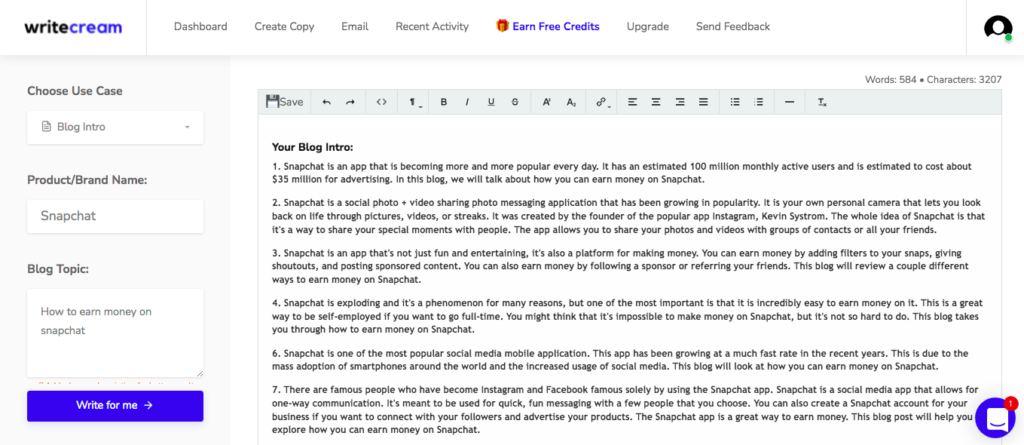 Output for Blog Intro:
Topic: How to Earn Money on Snapchat
1. Snapchat is an app that is becoming more and more popular every day. It has an estimated 100 million monthly active users and is estimated to cost about $35 million for advertising. In this blog, we will talk about how you can earn money on Snapchat.
2. Snapchat is a social photo + video sharing photo messaging application that has been growing in popularity. It is your own personal camera that lets you look back on life through pictures, videos, or streaks. It was created by the founder of the popular app Instagram, Kevin Systrom. The whole idea of Snapchat is that it's a way to share your special moments with people. The app allows you to share your photos and videos with groups of contacts or all your friends.
3. Snapchat is an app that's not just fun and entertaining, it's also a platform for making money. You can earn money by adding filters to your snaps, giving shoutouts, and posting sponsored content. You can also earn money by following a sponsor or referring your friends. This blog will review a couple different ways to earn money on Snapchat.
4. Snapchat is exploding and it's a phenomenon for many reasons, but one of the most important is that it is incredibly easy to earn money on it. This is a great way to be self-employed if you want to go full-time. You might think that it's impossible to make money on Snapchat, but it's not so hard to do. This blog takes you through how to earn money on Snapchat.

6. Snapchat is one of the most popular social media mobile application. This app has been growing at a much fast rate in the recent years. This is due to the mass adoption of smartphones around the world and the increased usage of social media. This blog will look at how you can earn money on Snapchat.
7. There are famous people who have become Instagram and Facebook famous solely by using the Snapchat app. Snapchat is a social media app that allows for one-way communication. It's meant to be used for quick, fun messaging with a few people that you choose. You can also create a Snapchat account for your business if you want to connect with your followers and advertise your products. The Snapchat app is a great way to earn money. This blog post will help you explore how you can earn money on Snapchat.
Output for Blog Outline: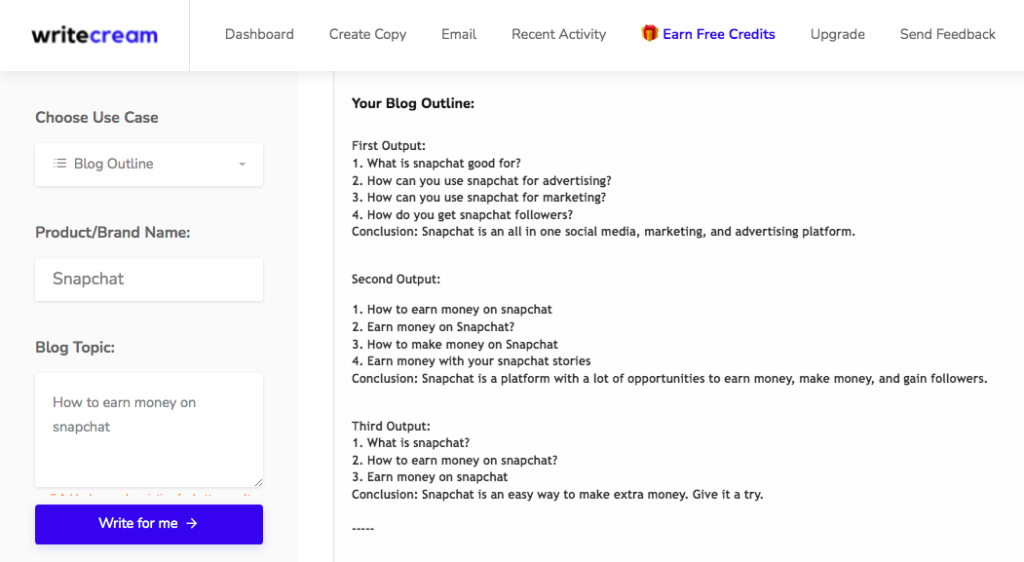 First Output:
1. What is snapchat good for?
2. How can you use snapchat for advertising?
3. How can you use snapchat for marketing?
4. How do you get snapchat followers?
Conclusion: Snapchat is an all in one social media, marketing, and advertising platform.
Second Output:
1. How to earn money on snapchat
2. Earn money on Snapchat?
3. How to make money on Snapchat
4. Earn money with your snapchat stories
Conclusion: Snapchat is a platform with a lot of opportunities to earn money, make money, and gain followers.
Third Output:
1. What is snapchat?
2. How to earn money on snapchat?
3. Formula Number 1 to earn money on snapchat
Conclusion: Snapchat is an easy way to make extra money. Give it a try.
Output verdict:
Both the tools consist of the same input of information from the user's behalf, but the outputs differ in quantity and quality. 
Writecream has given a better blog intro and that too a variety of introductions. It has used appropriate adjectives and has used an interesting tone in the blog. Also Writecream has generated more number of outputs for blog outline. WordHero has generated less number of outputs and has made sentences rephrasing the description given by the user, and the tone sounds repetitive. 
Writecream has given better outputs than WordHero.
Reviews Comparison (Average Ratings on G2, Capterra, SaaSworthy and AppSumo)
Let us see how different platforms rate these websites when we know about the features and how both the tools work.
Ratings on G2
Writecream – 4.8 out of 5 (the hyperlink is linked with the rating)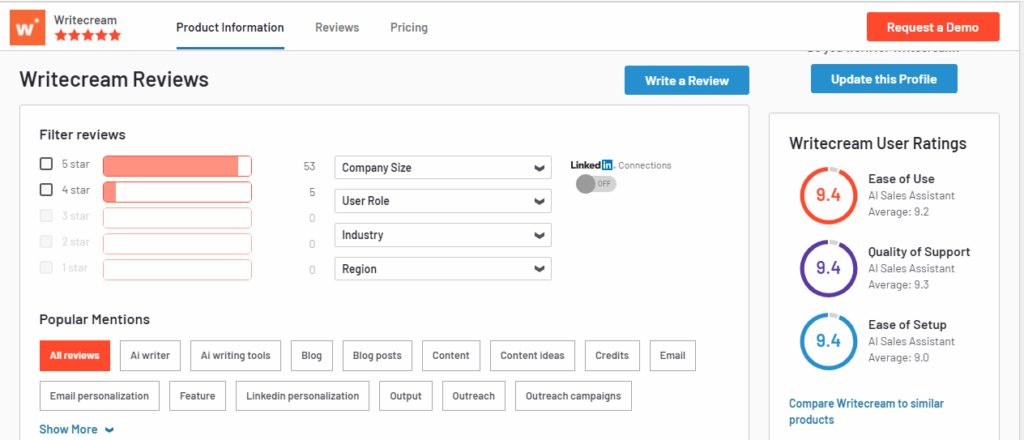 Ratings on Capterra
Writecream – 4.8 out of 5 (the hyperlink is linked with the rating)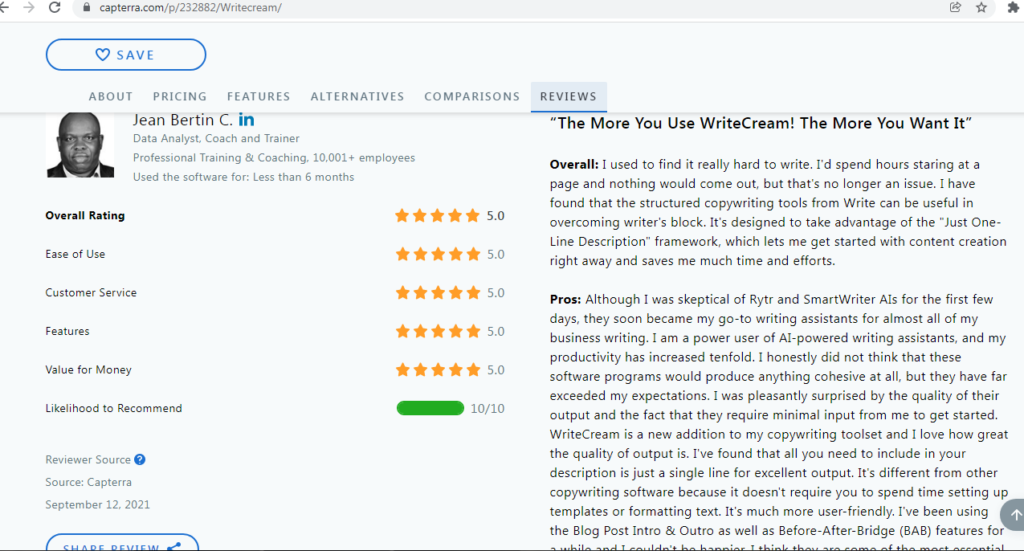 Rating on SaaSwrothy
Writecream – 84% out of 100% (the hyperlink is linked with the rating)

WordHero doesn't have any review on either of these platforms. However it has some reviews on AppSumo.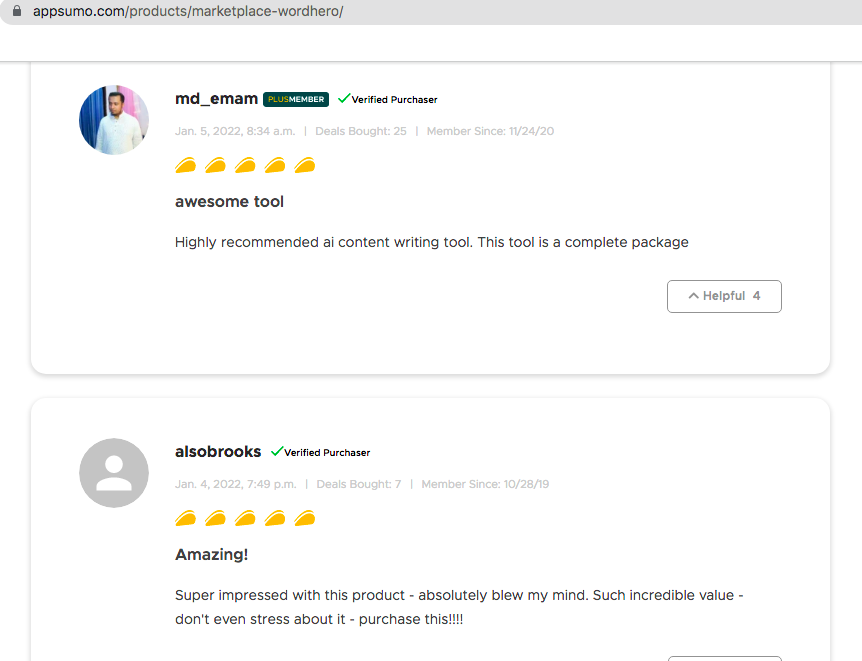 Which languages does each tool support?
Writecream exceeds WordHero as Writecream has 75+ languages embedded in its system whereas WordHero supports 10+ languages. WordHero has not displayed any comprehensive list of languages that it supports on its website.
Languages that Writecream supports are as follows:


Afrikaans, Albanian, Amharic, Arabic, Armenian, Azerbaijani, Bengali, Bosnian, Bulgarian, Chinese (Simplified), Catalan, Chinese (Traditional), Croatian, Czech, Danish, Dari, Dutch, English, Estonian, Finnish, French, French Canadian, Georgian, German, Greek, Gujarati, Haitian Creole, Hausa, Hebrew, Hindi, Hungarian, Icelandic, Indonesian, Italian, Japanese, Kannada, Kazakh, Korean, Latvian, Lithuanian, Macedonian, Malay, Malayalam, Maltese, Mongolian, Norwegian, Farsi (Persian), Pashto, Polish, Portuguese, Romanian, Russian, Serbian, Sinhala, Slovak, Slovenian, Somali, Spanish, Spanish Mexican, Swahili, Swedish, Filipino Tagalog, Tamil, Telugu, Thai, Turkish, Ukrainian, Urdu, Uzbek, Vietnamese, Welsh.
User Interface
WordHero has an interface that is well segregated and has 50+ tools but they all are well aligned and systematically. It keeps adding on new tools and improvising the older ones.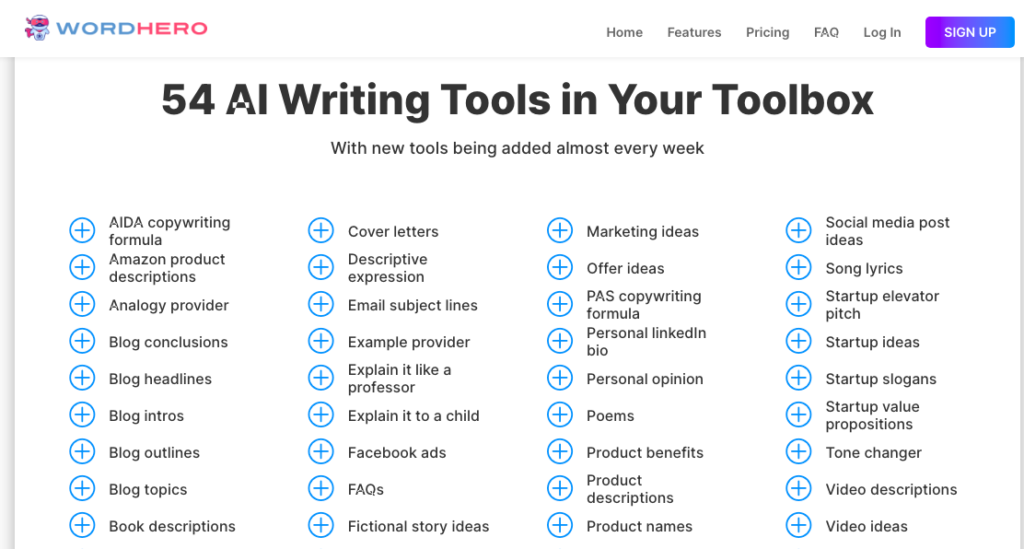 Writecream has a very neatly organized user interface. Writecream has a dashboard that presents an ever-clear overview of all the features provided by the site. The site also has an in-built bot that clears doubts regarding all the queries.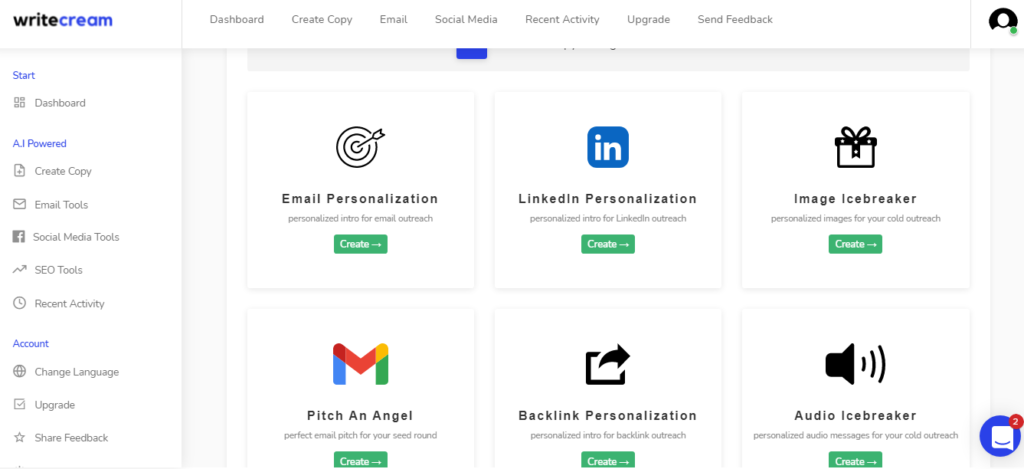 Tutorials for Reference
WordHero has no tutorials on its websites but some users and youtubers keep posting video tutorials for its tools.
Writecream has tutorials for every feature. Writecream offers tutorials from the time one signs in. WordHero has no such set of tutorials, whereas one can find many different bloggers that make tutorials trying to elaborate on how to use these tools. 
To find the tutorials, visit the website and find the 'Tutorials' Section on the top rightmost corner. It directly takes you to the YouTube channel where the tutorials are published. Apart from tutorials, Writecream also has a blog section that shares blog articles regarding specific tools!
The Customer Support provided by Writecream is available 24×7 and it is very impressive. You can use ChatBot on their website and report any grievances or any problems you are facing. Writecream customer support usually takes a few minutes to get back to you with a solution.
Some tutorials for its flagship features like Cold Emails, Backlink outreach, and LinkedIn Inmails are also present on the homepage.

Pricing
WordHero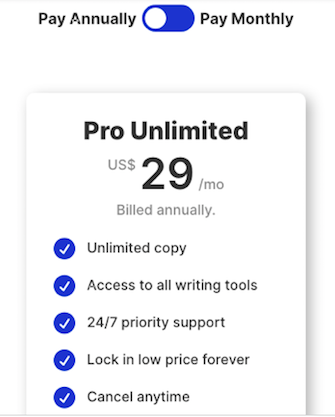 WordHero has a monthly plan and an yearly plan.  It has no free trial or free plan which is a serious drawback as the user cannot try the tool before buying it. This makes buyers reluctant of buying the tool.
Writecream
Writecream offers a number of plans to its users. These plans have been meticulously made keeping in mind the interests and requirements of varied users.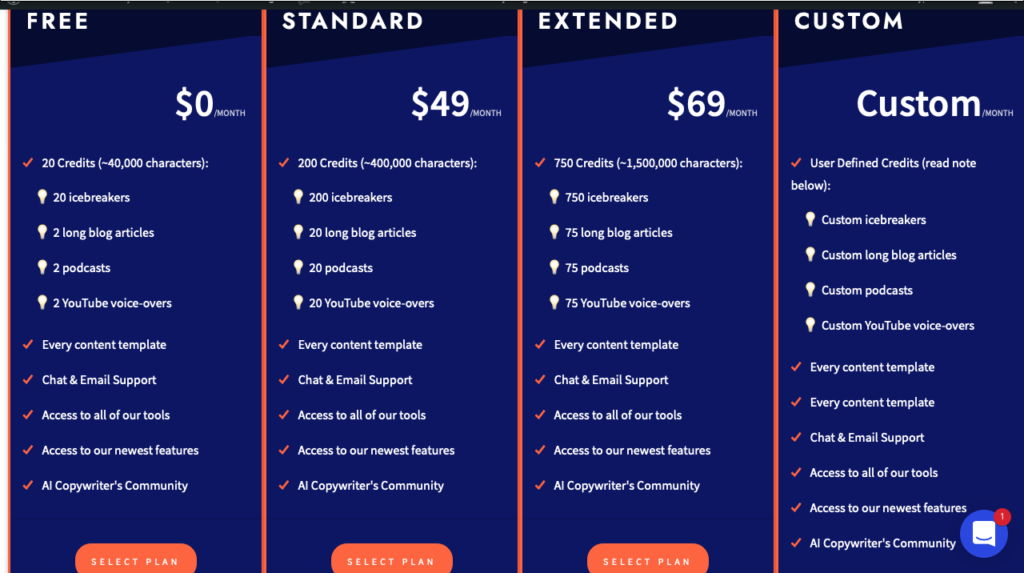 Free Plan: Writecream offers all its features in the free plan with 20 credits and 40,000 characters. It also provides access to its newest features and chat and email support for queries.
Standard Plan: This plan costs $49/month and provides 200 credits and a limit of 400,000 characters. It also provides access to the AI Copywriter community and upgrades the number of outputs generated to 20 for image icebreakers, long-form articles, podcasts, etc.
Extended Plan: This plan offers 750 credits along with a limit of 1,500,000 characters. It also upgrades the outputs generated from 200 to 750 image icebreakers, 75 blog articles, and podcasts, etc. It also includes all features of previous plans including the chat and email support and access to the AI Copy writer's community. This plan is most suitable for marketing agencies whose business forms a major portion of content and email marketing. It costs just $69/ month. It provides unlimited access to all of the tools at Writecream and also offers live chat and email support.
Custom Plan: Under this plan, users can define their requirements and Writecream accordingly prepares a custom pricing plan. This is suitable for business professionals, marketing agencies, and digital marketers. It offers user-defined credits and upgrades the limit of output generated be it,  long blog articles, podcasts, and YouTube voiceovers. This plan costs according to the users requirements.
What does the future look like for both tools?
WordHero keeps updating its roadmap as it adds on new features continuously by consulting and taking reviews from the users. But they have not displayed their Roadmap on their website. However, their DAQ section includes this: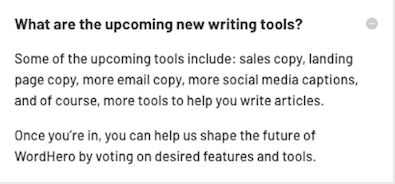 Writecream plans to provide the long format of copies of blogs, a plagiarism checker, a google chrome extension that helps one write or give suggestions when writing anything, creating a mobile app, and adding more language to their already long list.  Here's the roadmap for Writecream's future plans: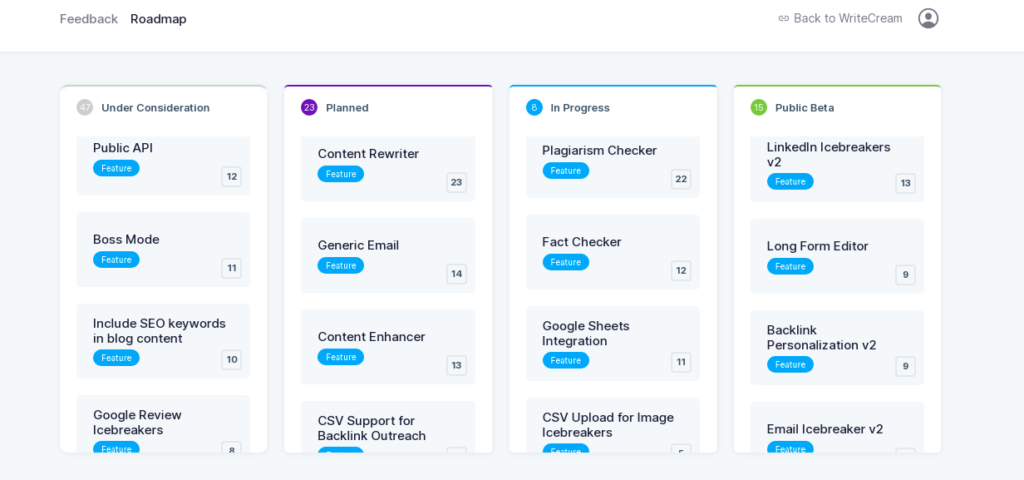 Where does Writecream win?
Writecream comes out on top in terms of specialisation. There are a variety of content development services and areas to pick from. Another advantage of Writecream is that it can create content in more than 75 languages, which is unmatched with any other AI. Additionally, WriteCream can produce podcasts and long form content which lacks in WordHero. Here are some of the features exclusively provided by Writecream. These are not present in WordHero.
AB Testing Methods: A major benefit of Writecream is that it uses AB testing methods to give a person a clear picture of what they want in their article or write-up. It has a very simple and organized interface to be used. It also has a conversion rate optimization tool. The personalization using this software is well managed.
Human-Voice overs: Writecream has another exclusive feature for its clients, "Voiceover Tool". It helps in converting text to speech with the help of AI. You can choose any language from the 75+ available. You can also choose a gender for voice. There's another option to choose speed and optimization for your voice-over.Here's an example (the voiceover for the video below was generated using Writecream):
Language Support: Writecream's multi-linguistic support of  75+ languages gives it an edge over WordHero.
Free Plan: Writecream's paid plans are already cost efficient and apart from that, it does offer a free plan to its users. WordHero doesn't have any free plan.
Image Icebreakers: Writecream has this amazing tool called image icebreakers. These are personalized images made through AI and are used for cold outreach. This tool is gaining popularity among business owners and marketers. It is widely being used by customers to generate premium images with quality content. This feature is not present in WordHero as of now. You can generate personalized texts but not images.For using these tools, you just need to enter the website URL, for example, Amazon.in in this case. Then, click on the generate button and your results will be displayed. Here is the result: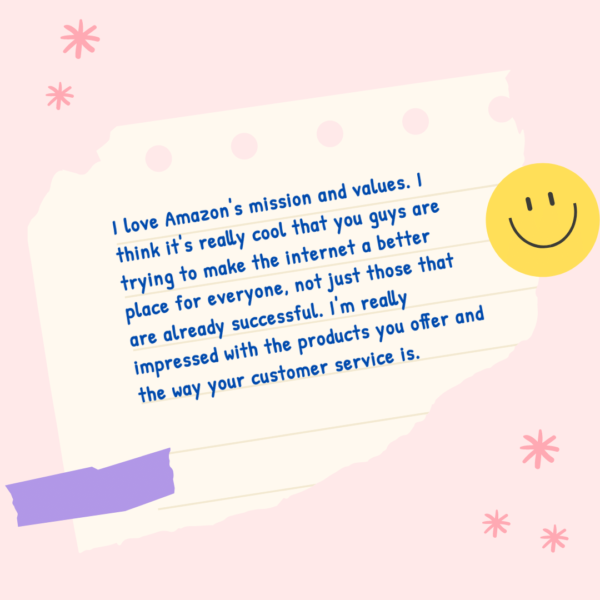 Where does WordHero win?
WordHero has an ever-changing easy interface that keeps updating according to user demands. Once the subscription is done, the person can use 50+ tools. It provides access to tools like:
Blog topic ideas

Marketing ideas

Offer ideas

Poems

Song lyrics

Startup elevator pitch

Startup ideas

Startup slogans

Video descriptions
Which one should I go for?
The tools we studied today are great in their outputs, but Writecream has an edge over WordHero as it has a better quality of outputs. Writecream is a 'one of a kind' tool for content marketing. It is easy to use, and the AI makes it possible to generate content on demand. The AI is constantly learning and becoming more sophisticated with each piece of content it writes, making it a powerful tool for marketers who are always looking for ways to improve their content. The pricing is great for all budgets and there's no credit card required. The writing is of high quality and plagiarism-free.
This tool has proved to be a lifesaver for marketers who are always on the go and need to write blog posts, articles, and content for other channels. The AI technology takes care of the repetitive tasks of writing and making sure the content is consistent, while the writer focuses on what the content should be about.
Conclusion
Today the world is advancing at the speed of light, and AI-powered tools are turning into a way of life. This makes it more competitive to work with the best available tool to get the desired outputs. In the coming days, the world will see the rise of AI tools in many sectors of life, and maybe till then, copywriting will not be the job of humans scratching their heads to brainstorm for a better idea.
Exploring new techniques to involve machine-generated outputs has seen a boost, and soon will change our lives like never before and especially will bring and hassle-free working environment for the copywriters.
So give it a try and check it out yourself here!
Let us know your thoughts in the comment section below!